Pricing & Details
Product Type

Monoclonal Antibody
Data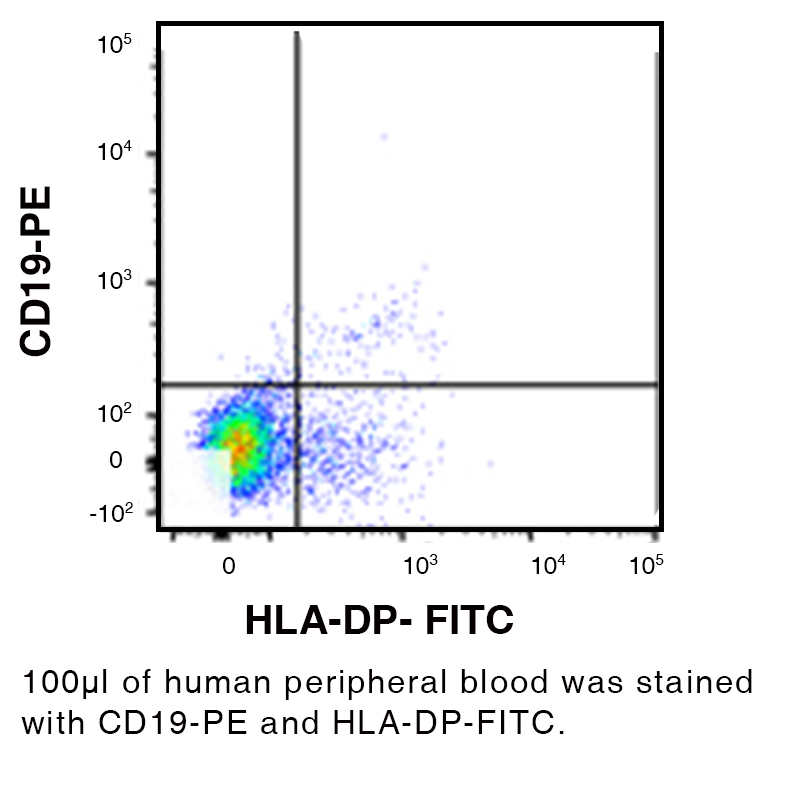 Antibody Details
Formulation
This Fluorescein (FITC) conjugate is formulated in 0.01 M phosphate buffered saline (PBS) pH 7.4, 1% BSA and 0.09% sodium azide as a preservative.
Storage and Handling
This Fluorescein conjugate is stable when stored at 2-8°C. Do not freeze.
Applications and Recommended Usage ?
(Quality Tested by Leinco)
Flow Cytometry:
This antibody can be used at a concentration of ≤ 0.25 µg per 100 µl of whole blood (or per 1.0 x 10
6
cells in a 100 µl total staining volume).
Excitation Laser
Blue Laser (488 nm)
Specificity
Anti-Human HLA-DP recognizes a (Mr 26-34 kDa) class II major histocompatibility complex (MHC) antigen.1 The antibody recognizes a monomorphic determinant present on cells expressing DP1, DP2, DP3, DP4 and DP5.
Antigen Distribution
The HLA-DP antigen is present on approximately 10% of normal peripheral blood lymphocytes but not on resting peripheral T-lymphocytes. HLA-DP is present in low density on peripheral blood monocytes and mitogen-stimulated T-lymphoblasts. Anti-HLA-DP reacts with most B-cell lines.
Antigen Details
References & Citations
1. Watson, J. A. et al. (1983) Nature 304:358
Technical Protocols
Formats Available