Bulk quantities available. Contact us for pricing.
Data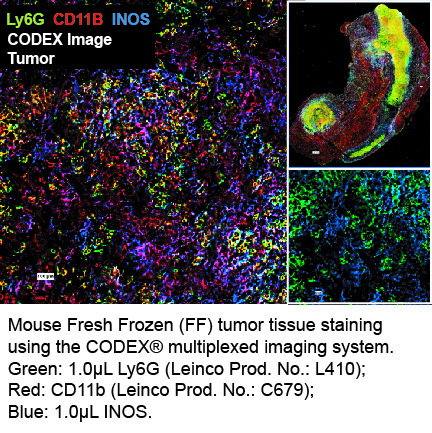 CODEX® Details
Antibody and Reporter Details
Formulation
This PhenoCycler-Fusion (CODEX)® barcoded antibody is formulated in phosphate buffered saline (150 mM NaCl) PBS, EDTA pH 7.2 containing 0.09% sodium azide as a preservative. The CODEX® reporter is lyophilized and formulated in 1X Tris-EDTA (TE) pH 8.0 (10 mM Tris-HCl, 1 mM disodium EDTA, pH 8.0)
Product Preparation
Manufactured in an animal-free facility using only in vitro cell culture techniques, purified by affinity chromatography, and conjugated to a specific barcode under optimal conditions.
State of Matter
CODEX® barcoded antibody - Liquid; CODEX® reporter - Lyophilized
Storage and Handling
This PhenoCycler-Fusion (CODEX)® barcoded antibody is stable when stored at 2-8°C for up to 1 year (do not freeze). The CODEX® reporter is stable when frozen at -20°C for up to 1 year.
Applications and Recommended Usage?
Quality Tested by Leinco
CODEX®; IHC FF - The suggested dilution for staining tissue in immunohistochemistry - Fresh Frozen (FF) is 1 μl of Anti-Mouse LY-6G (BX042) in a final volume of 200 μl of CODEX® staining buffer.
Each investigator should determine their own optimal working dilution for specific applications. See directions on lot specific datasheets, as information may periodically change.
Description
Specificity
Clone 1A8 recognizes an epitope on mouse Ly6G. Clone 1A8 does not cross react with Ly6C.
Antigen Distribution
Ly6G is expressed by neutrophils.
Background
Ly6G antibody, clone 1A8, recognizes lymphocyte antigen 6 complex locus G6D (Ly6G; also called Gr-1), a 21-25 kDa glycosylphosphatidylinositol (GPI)-anchored protein1. Ly6G belongs to the lymphocyte antigen-6 (Ly6)/urokinase-type plasminogen activator receptor (uPAR) superfamily, characterized by a Ly6/uPAR (LU) domain-containing a three-fingered structural motif stabilized by disulfide bonds2. Ly6G is expressed by murine neutrophils regardless of location and activation1,4,5. Eosinophils may also express low levels of Ly6G5. There is no human ortholog for Ly6G; however, a structurally related L76/uPAR protein, CD177 (also known as HNA-2a, NB1, or PRV-1) is expressed in human neutrophils and is implicated in neutropenia6. Although the exact function and ligand of Ly6G remain unknown, Ly6G ligation may impair neutrophil migration to sites of inflammation via a β2-integrin-dependent mechanism7.

PhenoCycler-Fusion (CODEX)® reporters are made up of a fluorescent dye and a short oligonucleotide DNA barcode called a CODEX® Tag. Fluorescent reporters enable highly specific detection of corresponding barcodes conjugated to antibodies. The use of spectrally separated dyes allow for precise signal detection in up to three distinct fluorescence channels at one time.
Antigen Details
References & Citations
1. Fleming TJ, at al. (1993) J Immunol. 151(5):2399-408
2. Tsetlin VI. (2015) Trends Pharmacol Sci. 36(2):109-23
3. Daley JM, et al. (2008) J Leukoc Biol. 83(1):64-70
4. Lee PY, et al. (2013) J Leukoc Biol. 94(4):585-594
5. Percopo CM, et al. (2017) J Leukoc Biol. 101(1):321-328.
6. Stroncek DF. (2007) Curr Opin Hematol. 14(6):688-93
7. Wang JX, et al. (2012) Blood. 120(7):1489-1498
Technical Protocols
Related Products
Formats Available