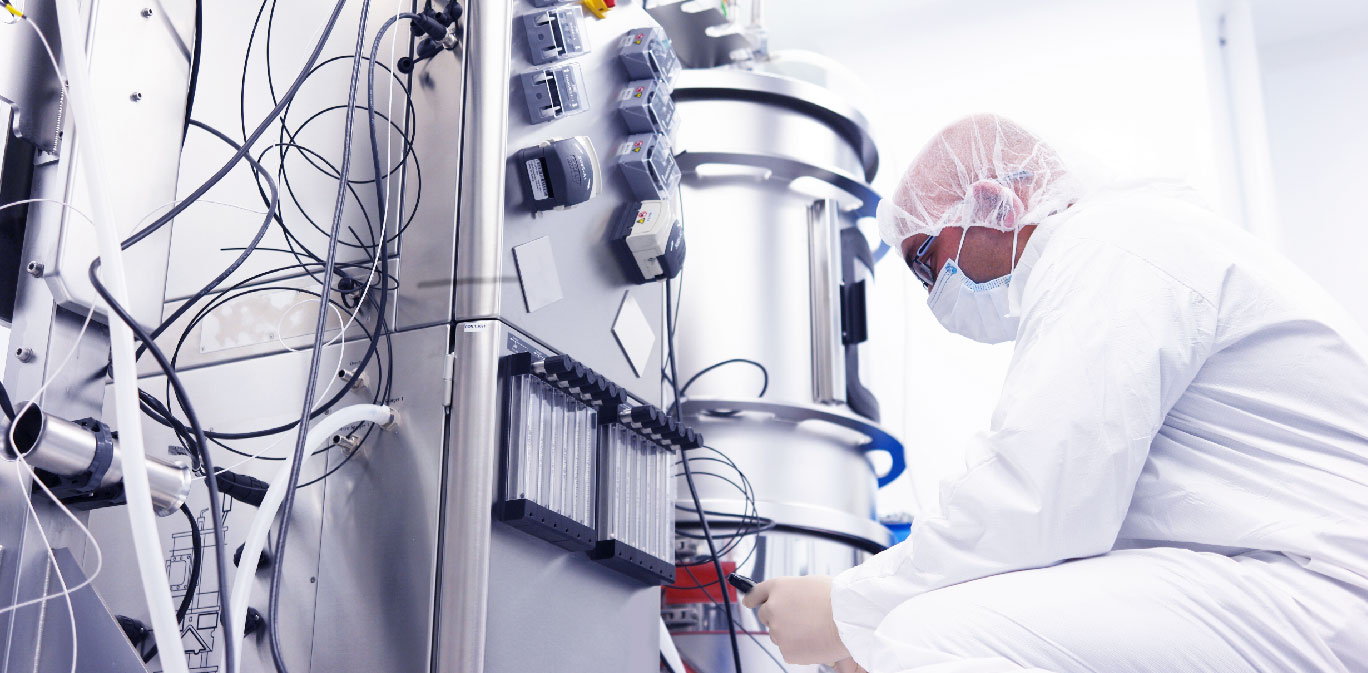 Hybridoma and Recombinant Antibody Production
Leinco Technologies has extensive experience in large scale mammalian cell culture of HEK-293, CHO, NS0 and hybridoma cells for production of monoclonal antibodies (mAb) and recombinant antibodies. Using Steam In Place (SIP) stirred tank, packed beds, GE Life Science WAVE bioreactors™ or proprietary single-use hollow fiber XP2000 systems, Leinco can fulfill any anitbody production needs. In cases where projects are in the proof of concept stage, In vitro antibody production can be performed in roller bottles or shake flasks. Bioreactor production is available at both small and large scale capacities in our production facility located in St. Louis, Missouri USA. Cell culture work and bioreactor production are performed in dedicated biopharmaceutical cleanroom suites using standard operating procedures to ensure high-quality purified antibodies. Leinco is an ISO9001.2015 certified company and all manufacturing data is recorded in cGMP compliant batch records. 
The Ascites method of producing large amounts of monoclonal antibodies is both inhumane and outdated. Leinco's In vitro mAb production platforms have proven to be a highly reliable and cost effective alternative. 
Cell Banking and Cell Line Optimization
Leinco Technologies provides cell line banking, mAb production optimization, and adaptation to speciality culture media for production of monoclonal antibodies.. A dedicated unit within Leincos' St. Louis facility develops stable B cell hybridoma cell lines, creates master cell banks and working cell banks for use in IVD diagnostics and biopharmaceutical manufacturing. Cell lines are sub-cloned and specific productivity rates are determined to maximize protein expression. Serological testing and dual-site storage of cell banks is available. For more information click HERE.
Multiple upstream production platforms
A key factor to expedite delivery and reduce production costs is the availability of multiple scale upstream production platforms. For B cell hybridomas where production requirements are less than 250 milligrams, roller bottles are a perfect choice and single-use platform. For milligram quantities of recombinant antibodies, shake flasks are often utilized followed by IMAC or other purification methods. However, when large scale production quantities are required, steam in place (SIP) stirred tank bioreactors or hollow fiber systems are available in dedicated cleanroom suites for each product.
Final Fill Finish
| | | |
| --- | --- | --- |
| Bioreactor Scale | Bioreactor | Estimated Production |
| 14 Liters | Stirred Tank | 30 g |
| 7.5 Liters | Stirred Tank | 25 g |
| 2 Sq. Meters | Hollow Fiber | 5 g |
| 1-3 Liters | Roller Bottles | 100 – 250 mg |
| 1-3 Liters | Shake Flask | 5 – 100 mg |
| 20 Liters | Steam In Place (SIP) | 250 mg – 5+ g |