Leinco Technologies is a leader in developing and manufacturing recombinant antibodies for early discovery research and diagnostics. We offer an extensive line of recombinant biosimilar antibodies at the in vivo functional purity levels you have come to know and trust from Leinco Technologies. 
Recombinant Biosimilar Antibodies at ≥95% Purity
Therapeutic antibodies are widely used for the treatment of diseases, including cancer and autoimmunity. However, therapeutic-grade biologics are expensive, challenging to source, and only available in large quantities, making studies of these antibodies difficult. Research-grade biosimilar antibodies are produced by recombinant technology using the variable region sequences of therapeutic antibodies, resulting in the same specificities as approved biologics. Recombinant biosimilar antibodies are ideal research tools as they are fast, inexpensive, and supplied in a research-grade format without additives and excipients, requiring fewer experimental controls. 
Leinco Technologies offers high-purity research-grade biosimilar antibodies for several therapeutics, including Trastuzumab, Efalizumab, Mogamulizumab, Rituximab, Tabalumab, Nivolumab, Natalizumab, Alemtuzumab, Ipilimumab, Drozitumab, Cetuximab, Briakinumab, Basiliximab, Sarilumab, Oxelumab, Adalimumab, and Bevacizumab. All antibodies are available with active or muted Fc effector functions. 
Fc Muted™ Biosimilar Antibodies
Most antibody effector functions are induced by the constant (Fc) antibody region, which can interact with complement proteins and Fc-receptors (FcRs). Fc-mediated antibody effector functions include antibody-dependent cell-mediated cytotoxicity (or antibody-dependent cellular cytotoxicity; ADCC), antibody-dependent cellular phagocytosis (ADCP), and activation of the classical complement pathway (or complement-dependent cytotoxicity; CDC)1,2.
ADCC:

FcRs on effector cells bind to the Fc region of antibodies on a target cell, resulting in secretion of lytic enzymes and the expression of cell death-inducing molecules, inducing target cell lysis. 

ADCP:

FcRs on phagocytic cells bind to the Fc region of antibodies on a target cell or immune complex, promoting clearance via phagocytosis.

CDC:

C1q binds to the Fc domain of antibodies on a target cell, triggering the complement cascade and assembly of the membrane attack complex (MAC), resulting in cell lysis.
While these effector functions are essential for effective therapeutic antibodies, they may not be preferential in research experiments. All of Leinco's biosimilar antibodies are also available in an Fc Muted™ format, in which mutations are introduced at crucial binding sites of the Fc domain with the FcR and C1q, reducing or eliminating Fc-mediated effector functions. In addition, by preventing FcR binding, Fc Muted™ biosimilar antibodies have reduced non-specific background signals, making them ideal for staining applications, such as flow cytometry and IHC.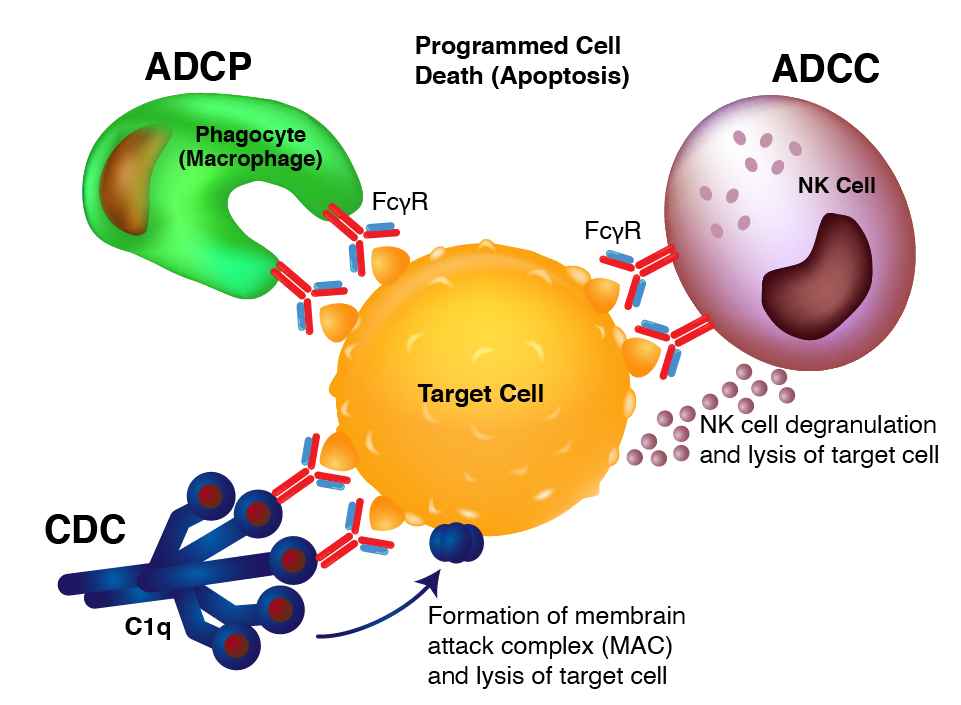 Nimmerjahn F, Ravetch JV. (2008) Nat Rev Immunol. 8(1):34-47

van Erp EA, et al. (2019) Front Immunol. 10:548
Custom Biosimilars Antibodies
Don't see the biosimilar you are looking for? Just send us the sequence, and we can custom make any biosimilar of your choice.
In vivo Grade Product Specifications
High purity

>

95% monomer by analytical SEC

Endotoxin

≤ 1.0 EU/mg as determined by the LAL method

Manufactured in an animal-free facility using protein-free, animal-origin-free cell culture media

Ultra-low levels of leached protein A

Sterile filtered and formulated in Leinco's in vivo grade PBS pH 7.2 containing no K or Ca, additives, preservatives, or carrier proteins

Research use only – not for therapeutic use

Many research applications, including flow cytometry, ELISA, IHC, functional assays, pharmacokinetic and potency assays