Bulk quantities available. Contact us for pricing.
Data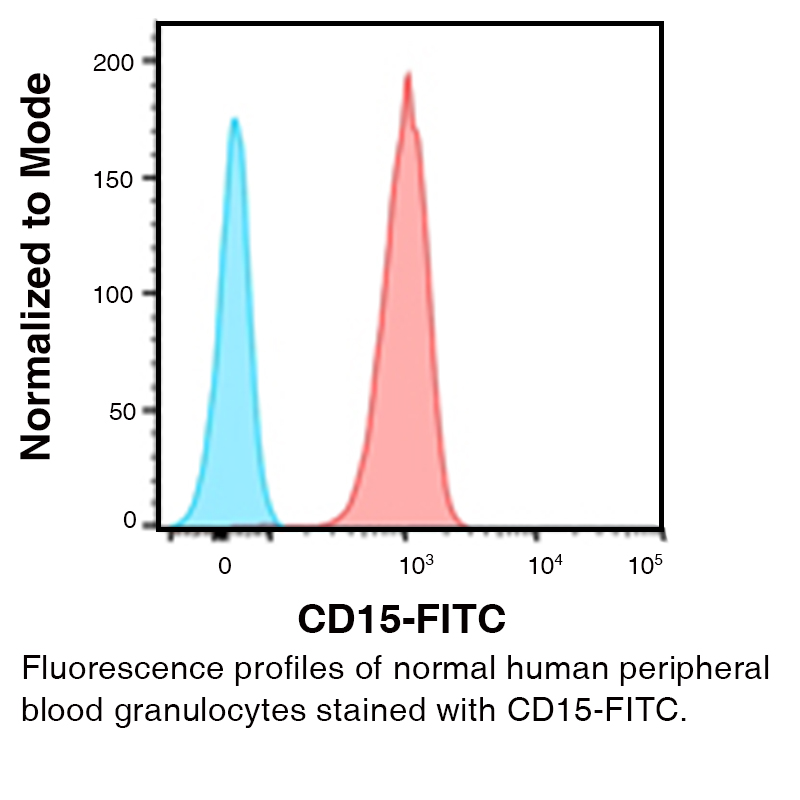 Antibody Details
Product Details
Immunogen
Purified Recombinant Human CD15 (>98%)
Formulation
This Fluorescein (FITC) conjugate is formulated in 0.01 M phosphate buffered saline (150 mM NaCl) PBS pH 7.4, 1% BSA and 0.09% sodium azide as a preservative.
Storage and Handling
This Fluorescein conjugate is stable when stored at 2-8°C. Do not freeze.
Excitation Laser
Blue Laser (490 nm)
Each investigator should determine their own optimal working dilution for specific applications. See directions on lot specific datasheets, as information may periodically change.
Description
Specificity
Mouse Anti-Human CD15 (Clone TG1) recognizes Human CD15. This monoclonal antibody was purified using multi-step affinity chromatography methods such as Protein A or G depending on the species and isotype. Anti-Human CD15 recognizes an antigen termed X hapten or granulocyte associated antigen.
Antigen Distribution
The CD15 antigen is present on >95% of mature peripheral blood eosinophils and neutrophils and is present in low density on circulating monocytes. It is absent on normal lymphocytes.1
Background
Anti-Human CD15 can be used for identification or enumeration of mature granulocytes in peripheral blood.
Antigen Details
Research Area
Neuroscience Cell Markers
References & Citations
1. Leukocyte Typing III (1987) Oxford University Press 2. Hogg, N. H. et al. (1984) Immunology 53:753 3. Linch D. C. et al. (1984) Blood 63:566 4. Beverley, P. C. L. et al. (1980) Nature 287:332
Technical Protocols
Formats Available