Data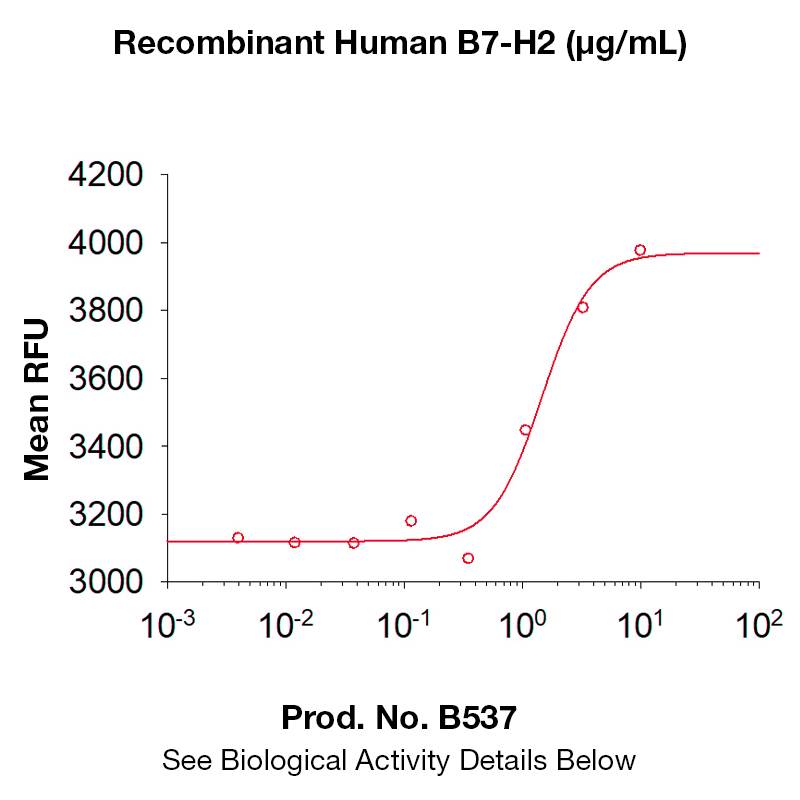 Background
B7-H2, also known as ICOSL and B7RP-1, is a transmembrane glycoprotein and member of the B7 family of co-stimulatory molecules related to B7-1 and B7-2. B7-H2 is expressed on B cells and macrophages and binds to ICOS on activated T cells delivering a positive co-stimulatory signal for optimal T cell function (1). The structural features of B7-H2 are crucial for its co-stimulatory function where receptor binding is mediated solely by the IgV domain but requires the IgC domain for maintaining the structural integrity of the protein (2).
Protein Details
Purity
>95% by SDS-PAGE and analyzed by silver stain.
Endotoxin Level
<0.01EU/µg as determined by the LAL method
<1.0 EU/µg as determined by the LAL method
Fusion Protein Tag
Fc Fusion Protein
Amino Acid Sequence
dt qekevramvg sdvelscacp egsrfdlndv yvywqtsesk tvvtyhipqn sslenvdsry rnralmspag mlrgdfslrl fnvtpqdeqk fhclvlsqsl gfqevlsvev tlhvaanfsv pvvsaphsps qdeltftcts ingyprpnvy winktdnsll dqalqndtvf lnmrglydvv svlriartps vnigccienv llqqnltvgs qtgndigerd kitenpvstg eknaatwsdi egrmdpkscd kthtcppcpa pellggpsvf lfppkpkdtl misrtpevtc vvvdvshedp evkfnwyvdg vevhnaktkp reeqynstyr vvsvltvlhq dwlngkeykc kvsnkalpap iektiskakg qprepqvytl ppsrdeltkn qvsltclvkg fypsdiavew esngqpenny kttppvldsd gsfflysklt vdksrwqqgn vfscsvmhea lhnhytqksl slspgk
N-terminal Sequence Analysis
Asp19
State of Matter
Lyophilized
Predicted Molecular Mass
The predicted molecular weight of Recombinant Human B7-H1 is Mr 53.4 kDa. However, the actual molecular weight as observed by migration on SDS-PAGE is Mr 80-90 kDa.
Formulation
This recombinant protein was 0.2 µm filtered and lyophilized from modified Dulbecco's phosphate buffered saline (1X PBS) pH 7.2 – 7.3 with no calcium, magnesium, or preservatives.
Storage and Stability
This lyophilized protein is stable for six to twelve months when stored desiccated at -20°C to -70°C. After aseptic reconstitution, this protein may be stored at 2°C to 8°C for one month or at -20°C to -70°C in a manual defrost freezer. Avoid Repeated Freeze Thaw Cycles. See Product Insert for exact lot specific storage instructions.
References & Citations
1. Wiendl, H. et al. (2003) Brain 126:1026
2. Yoshinaga, SK. et al. (1999) Nature 402:827
3. Chattopadhyay, KJ. et al. (2006) Immunol. 177:3920
IMPORTANT Use lot specific datasheet for all technical information pertaining to this recombinant protein.
Related Products