Data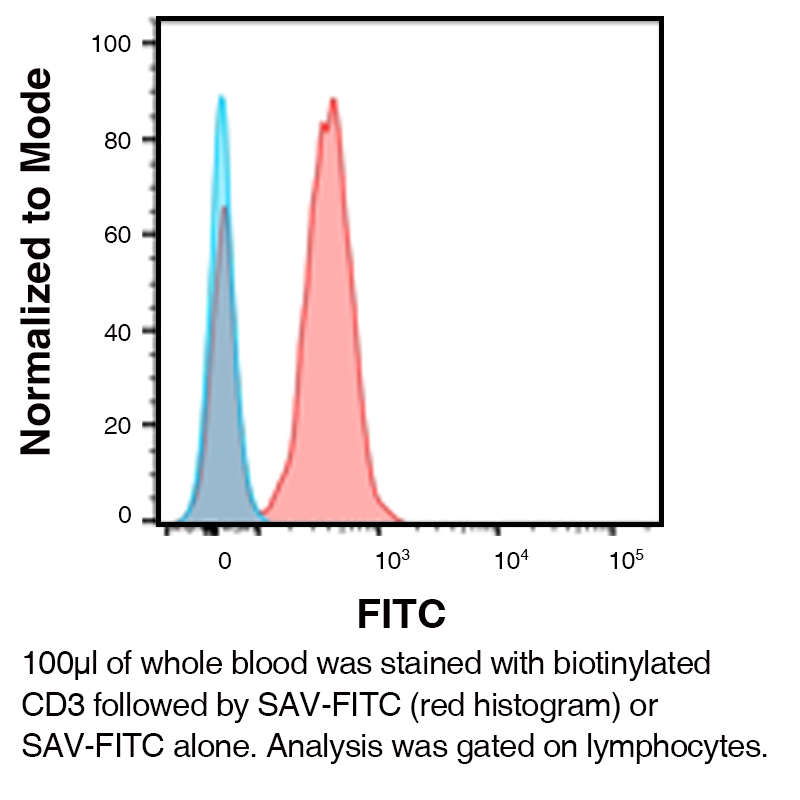 Antibody Details
Product Details
Formulation
Streptavidin-Fluorescein is supplied in 0.01M phosphate buffered saline (PBS) pH 7.4, containing 1.0% BSA and 0.09% sodium azide as a preservative.
Storage and Handling
This Fluorescein conjugate is stable when stored at 2-8°C. Do not freeze.
See directions on lot specific datasheets, as information may periodically change.
Working Concentration
Streptavidin-FITC has been tested by flow cytometric analysis to detect biotinylated primary antibodies. A woring dilution ≤ 0.125 μg per 100 μl blood (or per 1 million cells in 100 μl total staining volume) is suitable for most applications.
Isoelectric Point
pI = 5 - 6
Specific Activity
≥ 14.0 U/mg
Each investigator should determine their own optimal working dilution for specific applications.
Excitation Laser
Blue Laser (488 nm)
Description
Background
Streptavidin is a biotin binding protein present in the fermentation broth of the bacterium Streptomyces avidinii. Each molecule of streptavidin can bind four molecules of biotin with a high affinity constant (Kd~10 -15). Unlike native avidin, streptavidin is not glycosylated and has a near neutral isoelectric point (pI ~ 5-6) vs a pI of 10 for native avidin.
Antigen Details
Related Products