Bulk quantities available. Contact us for pricing.
Data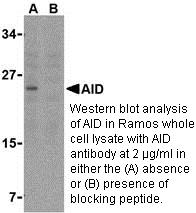 Antibody Details
Product Details
Formulation
This polyclonal antibody is formulated in phosphate buffered saline (PBS) pH 7.4 containing 0.02% sodium azide as a preservative.
Storage and Handling
This polyclonal antibody is stable for at least one week when stored at 2-8°C. For long term storage, aliquot in working volumes without diluting and store at –20°C in a manual defrost freezer. Avoid Repeated Freeze Thaw Cycles.
Each investigator should determine their own optimal working dilution for specific applications. See directions on lot specific datasheets, as information may periodically change.
Description
Specificity
Rabbit Anti-Human Activation-Induced Cytidine Deaminase (AID) recognizes an epitope near the C-terminus of Human and Mouse AID. This polyclonal antibody was purified using affinity chromatography.
Background
Activation-induced cytidine deaminase (AID) was initially discovered as a homolog of the apolipoprotein B RNA-editing cytidine deaminase 1 (APOBEC1) that showed cytidine deaminase properties in stimulated B cell lines.1 It is necessary for somatic hypermutation and class switch recombination in B cells,2 but inappropriate or dysregulated expression AID is often found in tumors and B cell neoplasms.2,3 Although it is structurally and functionally similar to the APOBEC proteins (reviewed in 4), it appears unlikely that AID deaminates dC to dU residues in HIV cDNA as does APOBEC3G.
Antigen Details
References & Citations
1. Muramatsu, M. et al. (1999) J. Biol. Chem. 274:18470
2. Muramatsu, M. et al. (2000) Cell 102:553
3. Greeve, J. et al. (2003) Blood 101:3574
4. Cascalho, M. (2004) J. Immunol. 172:6513
Technical Protocols
Related Products