Bulk quantities available. Contact us for pricing.
Data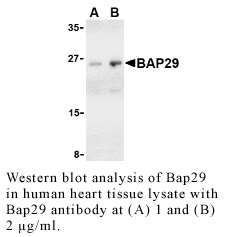 Antibody Details
Product Details
Formulation
This polyclonal antibody is formulated in phosphate buffered saline (PBS) pH 7.4 containing 0.02% sodium azide as a preservative.
Storage and Handling
This polyclonal antibody is stable for at least one week when stored at 2-8°C. For long term storage, aliquot in working volumes without diluting and store at –20°C in a manual defrost freezer. Avoid Repeated Freeze Thaw Cycles.
Each investigator should determine their own optimal working dilution for specific applications. See directions on lot specific datasheets, as information may periodically change.
Description
Specificity
Rabbit Anti-Human B Cell Receptor-Associated Protein 29 (BAP29) recognizes an epitope near the C-terminus of Human, Mouse and Rat BAP29. This polyclonal antibody was purified using affinity chromatography.
Background
Bap29 and the related protein Bap31 are endoplasmic reticulum (ER) and ER-vesicle membrane proteins and members of the B-cell receptor-associated protein family.1,2 These two proteins are highly homologous and can form homo- and heterodimers. Both Bap29 and Bap31 interact with membrane-bound immunoglobulins (mIgs), such as IgM and IgD, which with Ig-α/Ig-β heterodimers form B cell antigen receptors. Binding of the Bap29/Bap31 heterodimer correlates with the ER retention of non-Ig-α/Ig-β bound mIg complexes, suggesting that Bap29 and Bap31 may act as chaperones transmembrane regions of various proteins. Bap29 possesses multiple isoforms.
Antigen Details
References & Citations
1. Ng, F. et al. (1997) J. Cell Biol. 139:327
2. Schamel, W. et al. (2003) Proc. Natl. Acad. Sci. USA 100:9861
Technical Protocols
Related Products