Bulk quantities available. Contact us for pricing.
Data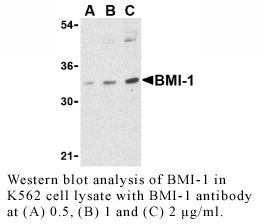 Antibody Details
Product Details
Formulation
This polyclonal antibody is formulated in phosphate buffered saline (PBS) pH 7.4 containing 0.02% sodium azide as a preservative.
Storage and Handling
This polyclonal antibody is stable for at least one week when stored at 2-8°C. For long term storage, aliquot in working volumes without diluting and store at –20°C in a manual defrost freezer. Avoid Repeated Freeze Thaw Cycles.
Each investigator should determine their own optimal working dilution for specific applications. See directions on lot specific datasheets, as information may periodically change.
Description
Specificity
Rabbit Anti-Human BMI-1 recognizes an epitope in the intermediate domain of human, mouse and rat BMI-1. This polyclonal antibody was purified using affinity chromatography.
Background
The transcriptional repressor BMI-1 was first identified as a proto-oncogene frequently activated by Moloney murine leukemia proviral insertions in mice and cooperating with c-myc in the generation of mouse lymphomas. BMI-1 is involved in segment specification, cell growth and maintenance, transcriptional regulation, and chromatin modification. A major target of BMI-1 is the ink4a locus which encodes tumor suppressor proteins p16 and p19Arf, which are important in tumor progression and thought to be critical in cell proliferation and senescence.2 Recent studies have also shown that BMI-1 is required for the maintenance of adult normal and leukemic stem cells,3 suggesting that BMI-1 could an attractive therapeutic target for stem cell proliferation and renewal as well as for anti-cancer strategies.
Antigen Details
References & Citations
1. Alkema, MJ. et al. (1993) Hum. Mol. Genet. 2:1597
2. Jacobs, J J. et al. (1999) Nature 397:164
3. Lessard, J. et al. (2003) Nature 255
Technical Protocols
Related Products