Bulk quantities available. Contact us for pricing.
Data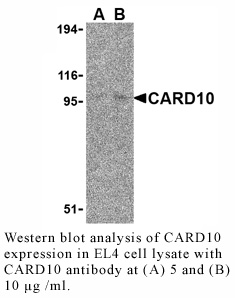 Antibody Details
Product Details
Formulation
This polyclonal antibody is formulated in phosphate buffered saline (PBS) pH 7.4 containing 0.02% sodium azide as a preservative.
Storage and Handling
This polyclonal antibody is stable for at least one week when stored at 2-8°C. For long term storage, aliquot in working volumes without diluting and store at –20°C in a manual defrost freezer. Avoid Repeated Freeze Thaw Cycles.
Each investigator should determine their own optimal working dilution for specific applications. See directions on lot specific datasheets, as information may periodically change.
Description
Specificity
Rabbit Anti-Human Caspase Recruitment Domain Family Member 10 (CARD10) recognizes an epitope near the C-terminus of human and mouse CARD10. This polyclonal antibody was purified using affinity chromatography.
Background
Apoptosis is related to many diseases and development. Cell death signals are transduced by death domain (DD), death effector domain (DED), and caspase recruitment domain (CARD) containing molecules. CARD containing proteins include some caspases, Apaf-1, CARD4, IAPs, RICK, ARC, RAIDD, Bcl-10, and ASC. A novel CARD-containing protein was recently identified and designated CARD10.1 This protein belongs to the membrane-associated guanylate kinase-like (MAGUK) family of proteins that can function as molecular scaffolds that assist assembly of signal transduction molecules.2 CARD 10 interacts with Bcl-10, a Bcl protein that promotes apoptosis, caspase-9 maturation and activation of NF-κB.1,3 CARD 10 and the related protein CARMA1 also associate with NEMO, the regulatory subunit of the IκK complex,4 demonstrating its importance in the regulation of NF-κB transcription factor activation.
Antigen Details
References & Citations
1. Wang, L. et al. (2001) J. Biol. Chem. 276:21405-9.
2. Fanning, AS. and Anderson, JM. (1999) Curr. Opin. Cell Biol. 11:432-9.
3. Fischer, KD. et al. (2004) Trends Immunol. 25:113-6.
4. Stilo, R. et al. (2004) J. Biol. Chem. 279:34323-31.
Technical Protocols
Related Products