Bulk quantities available. Contact us for pricing.
Data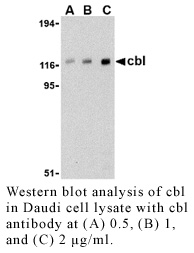 Antibody Details
Product Details
Formulation
This polyclonal antibody is formulated in phosphate buffered saline (PBS) pH 7.4 containing 0.02% sodium azide as a preservative.
Storage and Handling
This polyclonal antibody is stable for at least one week when stored at 2-8°C. For long term storage, aliquot in working volumes without diluting and store at –20°C in a manual defrost freezer. Avoid Repeated Freeze Thaw Cycles.
Each investigator should determine their own optimal working dilution for specific applications. See directions on lot specific datasheets, as information may periodically change.
Description
Specificity
Rabbit Anti-Human Casitas B-lineage Lymphoma Proto-Oncogene (Cbl) recognizes Human, Mouse and Rat Cbl. This polyclonal antibody was purified using affinity chromatography.
Background
The mammalian cbl family of ubiquitin ligases consists of three homologs known as cbl (also known as c-Cbl), Cbl-B, and Cbl-3 which share highly conserved a tyrosine-kinase-binding domain, linker and RING finger domain in their amino-terminal halves(reviewed in 1). Similar to other E3 ubiquitin ligases, Cbl catalyzes the transfer of ubiquitin from an E2 or Ubc (ubiquitin-conjugating) enzyme to the e-amino group of a lysine residue of the substrate protein(2). Cbl acts to negatively regulate many types of cell-surface receptors, including the Syk protein tyrosine kinase family. Cbl is thought to be involved in T- and B-cell signaling, in addition to thymus development(3). Of the three known homologs in the cbl family, cbl antibody reacts specifically with cbl. Multiple isoforms of cbl have been reported.
Antigen Details
References & Citations
1. Thien, CBF. et al. (2005) Biochem. J. 391:153
2. Weissman, AM. (2001) Nat. Rev. Mol. Cell Biol. 2:169
3. Swaminathan, G. et al. (2006) J. Cell. Physiol. 209:21
Technical Protocols
Related Products