Data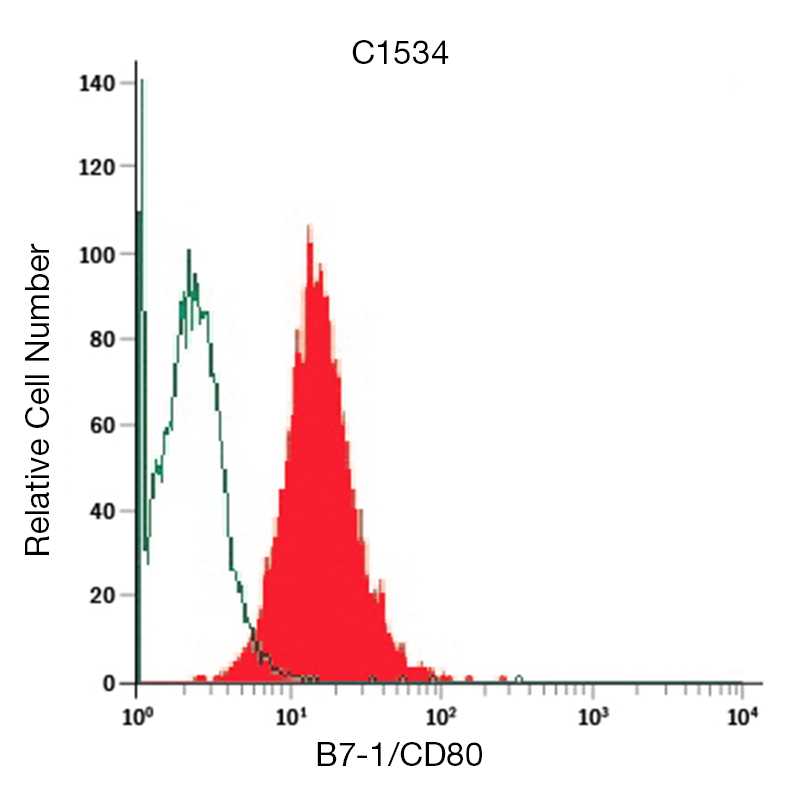 Antibody Details
Product Details
Formulation
This monoclonal antibody is conjugated to fluorescein and formulated in modified Dulbecco's phosphate buffered saline (1X PBS) pH 7.2 - 7.3 containing 0.1% sodium azide as a preservative.
Storage and Handling
This Fluorescein (FITC) conjugate is stable for at least twelve months when stored at 2-8°C protected from light. Do not freeze.
Excitation Laser
Blue Laser (488 nm)
Applications and Recommended Usage?
Quality Tested by Leinco
Flow Cytometry: This conjugate has been pre-diluted to use approximately 10 µl per test when staining cells for flow cytometry. A typical test sample constitutes approximately 50 µl of packed whole blood or 1 x 106 continuous passage or activated cell cultures that have been centrifuged at 500 X g for five minutes and resuspended in 200-400 µl of 1X PBS.
Each investigator should determine their own optimal working dilution for specific applications. See directions on lot specific datasheets, as information may periodically change.
Description
Specificity
Clone 37711 recognizes an epitope on human CD80.
Antigen Distribution
CD80 is expressed on activated B cells, monocytes/macrophages, and dendritic cells.
Background
CD80 is a highly glycosylated 60 kD protein that is part of the Ig superfamily and is significantly involved in immune cell activation in response to pathogens. CD80 is closely related to, and works in tandem with CD86 (B7-2) to prime T- cells. CD80 binds to CTLA-4 to deliver an inhibitory signal to T cells. The ligation of CD28 on T cells with CD80 and CD86 on APCs co-stimulates T cells resulting in enhanced cell activation, proliferation, and cytokine production. It is thought that CD80 interacts with a ligand on Natural Killer cells, activating the Natural Killer cell-mediated cell death of the CD80 carrier. The activation of Natural Killer cell-mediated death via CD80 interactions has potential as a possible cancer immunotherapy through the induction of CD80 expression on tumor cells.
Antigen Details
Ligand/Receptor
CD28, CD152 (CTLA-4)
Technical Protocols