Bulk quantities available. Contact us for pricing.
Data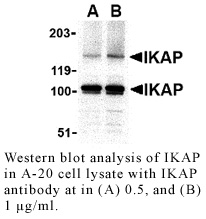 Antibody Details
Product Details
Formulation
This polyclonal antibody is formulated in phosphate buffered saline (PBS) pH 7.4 containing 0.02% sodium azide as a preservative.
Storage and Handling
This polyclonal antibody is stable for at least one week when stored at 2-8°C. For long term storage, aliquot in working volumes without diluting and store at –20°C in a manual defrost freezer. Avoid Repeated Freeze Thaw Cycles.
Each investigator should determine their own optimal working dilution for specific applications. See directions on lot specific datasheets, as information may periodically change.
Description
Specificity
Rabbit Anti-Human IKK Complex-Associated Protein (IKAP) recognizes Human and Mouse IKAP. This polyclonal antibody was purified using affinity chromatography.
Background
IKAP was initially identified as a scaffold protein of the IκB kinase complex that could bind to IKKα, IKKβ, NF-κB, and the NF-κB-inducing kinase (NIK), although later evidence has cast doubt on this. More recent reports show that mutations in IKAP such as a frameshift leading to a truncated protein or a missense mutation that leads to defective phosphorylation are responsible for the autosomal recessive genetic disease familial dysautonomia (FD). Reports indicating that it forms part of the RNA polymerase II transcription elongation complex suggest that this disease may be due to compromised transcription elongation. More recently, it was shown that IKAP associates with c-Jun N-terminal kinase (JNK) and could specifically enhance JNK activation induced by the upstream JNK activators MEKK1 and ASK1, indicating another possible cause for FD. At least two isoforms of IKAP are known two exist.
Antigen Details
References & Citations
1. Cohen, L. et al. (1998) Nature 395:292
2. Krappmann, D. et al. (2000) J. Biol. Chem. 275:29779
3. Anderson, S L. et al. (2001) Am. J. Hum. Genet.68:753
4. Hawkes, N. A. et al. (2002) J. Biol. Chem. 277:3047
Technical Protocols
Related Products