Bulk quantities available. Contact us for pricing.
Data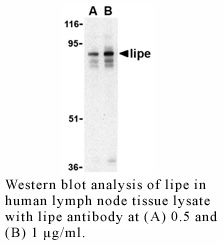 Antibody Details
Product Details
Formulation
This polyclonal antibody is formulated in phosphate buffered saline (PBS) pH 7.4 containing 0.02% sodium azide as a preservative.
Storage and Handling
This polyclonal antibody is stable for at least one week when stored at 2-8°C. For long term storage, aliquot in working volumes without diluting and store at –20°C in a manual defrost freezer. Avoid Repeated Freeze Thaw Cycles.
Each investigator should determine their own optimal working dilution for specific applications. See directions on lot specific datasheets, as information may periodically change.
Description
Specificity
Rabbit Anti-Human Lipe recognizes Human, Mouse and Rat Lipe. This polyclonal antibody was purified using affinity chromatography.
Background
Although initially described as an adipocyte-specific triacylglycerol lipase, lipe (also known as hormone-specific lipase or HSL) is expressed in multiple tissues and cell lines. It plays multiple roles in lipid metabolism, including hormone-stimulated lipolysis in adipose tissue and the hydrolysis of cholesterol esters. Lipe is expressed as a long and a short form, generated by use of alternative translational start codons. The long form is expressed in steroidogenic tissues such as testis, where it converts cholesterol esters to free cholesterol for steroid hormone production. The short form is expressed in adipose tissue, among others, where it hydrolyzes stored triglycerides to free fatty acids. Recently, it was observed that the lack of lipe in genetically obese leptin-null mice inhibited obesity and adipogenesis, suggesting that lipe plays a major role in adipocyte proliferation.
Antigen Details
References & Citations
1. Yeaman, SJ. (2004) Biochem. J. 379:11
2. Holst, LS. et al. (1996) Genomics 35:441
3. Kraemer, FB. et al. (2004) Mol. Endocrinol. 18:549
4. Sekiya, M. et al. (2004) J. Biol. Chem. 279:15084
Technical Protocols
Related Products