Bulk quantities available. Contact us for pricing.
Data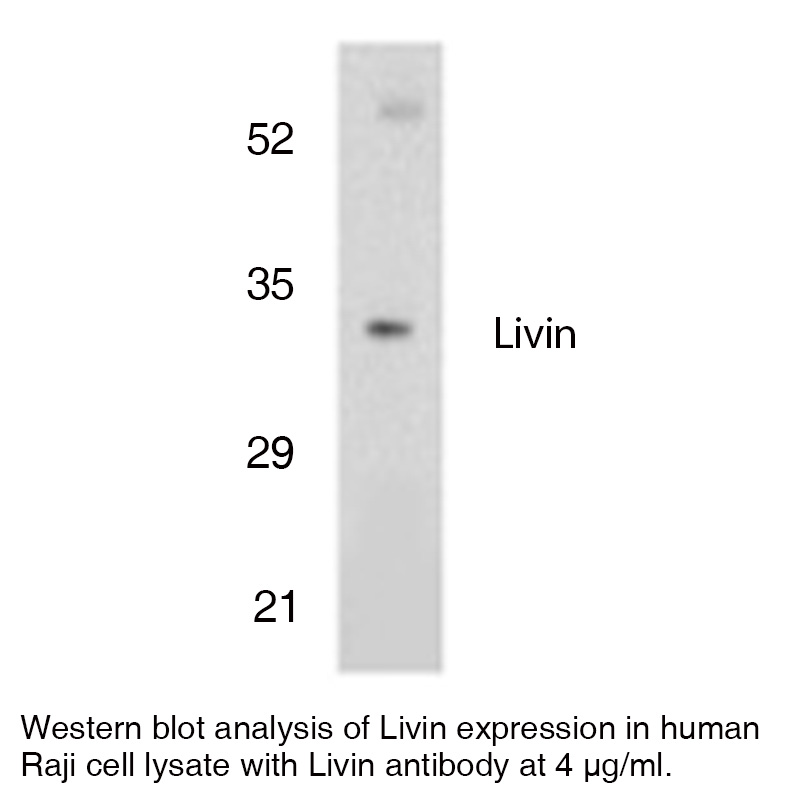 Antibody Details
Product Details
Formulation
This polyclonal antibody is formulated in phosphate buffered saline (PBS) pH 7.4 containing 0.02% sodium azide as a preservative.
Storage and Handling
This polyclonal antibody is stable for at least one week when stored at 2-8°C. For long term storage, aliquot in working volumes without diluting and store at –20°C in a manual defrost freezer. Avoid Repeated Freeze Thaw Cycles.
Each investigator should determine their own optimal working dilution for specific applications. See directions on lot specific datasheets, as information may periodically change.
Description
Specificity
Rabbit Anti-Human Livin recognizes Human Livin. This polyclonal antibody was purified using affinity chromatography.
Background
Apoptosis, or programmed cell death, is related to many diseases, such as cancer. Apoptosis is triggered by a variety of stimuli including members in the TNF family and prevented by the inhibitor of apoptosis (IAP) proteins. IAP proteins form a conserved gene family that binds to and inhibits cell death proteases. A novel member in the IAP protein family was recently identified and designated Livin and KIAP for kidney IAP.1,2 Livin/XIAP contains a single baculoviral IAP repeat (BIR) domain and a RING finger domain and has two isoforms termed Livin-a and Livin-b.1,3 Transfection of Livin in cells resulted in protection from apoptosis induced by FADD, BAX, RIP, RIP3 and DR6.2 Livin has direct interaction with several caspases including caspase-3, -7, and -9. Livin inhibits the activation of caspase-9 induced by Apaf-1, cytochrome c, and dATP. The two isoforms of Livin appear to have different functions and tissue distributions.
Antigen Details
References & Citations
1. Kasof, GM. et al. (2001) J. Biol. Chem. 276(5):3238
2. Lin, JH. et al. (2000) Biochem. Biophys. Res. Commun. 279(3):820
3. Ashhab, Y. et al. (2001) FEBS Lett. 495(1-2):56
Technical Protocols
Related Products