Bulk quantities available. Contact us for pricing.
Data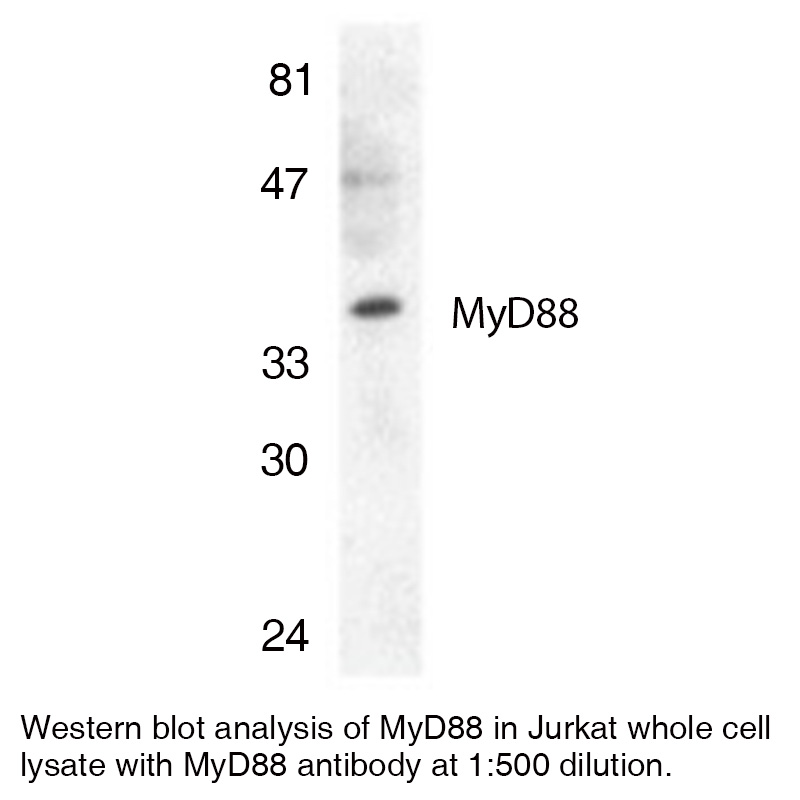 Antibody Details
Product Details
Formulation
This polyclonal antibody is formulated in phosphate buffered saline (PBS) pH 7.4 containing 0.02% sodium azide as a preservative.
Storage and Handling
This polyclonal antibody is stable for at least one week when stored at 2-8°C. For long term storage, aliquot in working volumes without diluting and store at –20°C in a manual defrost freezer. Avoid Repeated Freeze Thaw Cycles.
Each investigator should determine their own optimal working dilution for specific applications. See directions on lot specific datasheets, as information may periodically change.
Description
Specificity
Rabbit Anti-Human MYD88 recognizes an epitope near the C-terminus of Human, Mouse and Rat MYD88. This polyclonal antibody was purified using affinity chromatography.
Background
The pro-inflammatory cytokine IL-1 induced cellular response requires IL-1 receptor complex including IL-1RI and IL-1RAcP. Recently, MyD88 was identified as an adapter molecule in the IL-1 signaling pathway.1 MyD88 associates with and recruits IRAK to the IL-1 receptor complex in response to IL-1 treatment and dominant negative form of MyD88 attenuates IL-1R-mediated NF-κB activation. MyD88 is also employed as a regulator molecule by IL-18 receptor and human Toll receptor,2,3 which are members in the Toll/IL-1R family of receptors. Targeted disruption of the MyD88 gene results in lose of cellular responses to IL-1 and IL-18, and MyD88-deficient mice lack responses to bacterial product LPS that employs Toll-like receptors 2 and 4 (TLR2 and TLR4) as the signaling receptors. MyD88 is a general adapter protein for the Toll/IL-1R family of receptors and plays an important role in the inflammatory response induced by cytokines IL-1 and IL-18 and endotoxin. MyD88 gene is expressed in many tissues.
Antigen Details
References & Citations
1. Muzio, M. et al. (1997) Science 278:1612
2. Adachi, O. et al. (1998) Immunity 9:143
3. Medzhitov, R. et al. (1998) Mol. Cell 2:253
4. Kawai, T. et al. (1999) Immunity 11:115
Technical Protocols
Related Products