Bulk quantities available. Contact us for pricing.
Data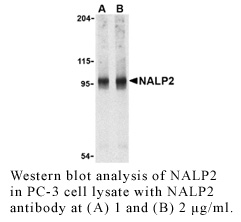 Antibody Details
Product Details
Formulation
This polyclonal antibody is formulated in phosphate buffered saline (PBS) pH 7.4 containing 0.02% sodium azide as a preservative.
Storage and Handling
This polyclonal antibody is stable for at least one week when stored at 2-8°C. For long term storage, aliquot in working volumes without diluting and store at –20°C in a manual defrost freezer. Avoid Repeated Freeze Thaw Cycles.
Each investigator should determine their own optimal working dilution for specific applications. See directions on lot specific datasheets, as information may periodically change.
Description
Specificity
Rabbit Anti-Human NALP2 recognizes Human, Mouse and Rat NALP2. This polyclonal antibody was purified using affinity chromatography.
Background
NALP2 belongs to a family of cytoplasmic proteins that have been implicated in cell responses to apoptotic and inflammatory stimuli.1 Unlike the prototypical NALP protein NALP1, NALP2 only contains a NACHT domain, leucine rich repeat (LRR), and pyrin-containing domain (PYD).2 This protein interacts with the adapter protein ASC in addition to CARD8 and caspase-1 to form an inflammasome with high proIL-1Β-processing activity and is thought to function as a modulator of NF-κB and procaspase-1 activation in macrophages.2,3 It has also been suggested that NALP2, in addition to other NALP family members, can act as innate sensors of pathogens in a manner similar to the toll-like receptors (TLRs).4 At least two alternatively spliced transcript variants encoding distinct isoforms have been found for NALP2.
Antigen Details
References & Citations
1. Tschopp, J. et al. (2003) Nat. Rev. Mol. Cell Biol. 4:95
2. Bruey, JM. et al. (2004) J. Biol. Chem. 279:51897
3. Agostini, L. et al. (2004) Immunity 20:319
4. Martinon, F. et al. (2005) TRENDS Imm. 26:447
Technical Protocols
Related Products