Bulk quantities available. Contact us for pricing.
Data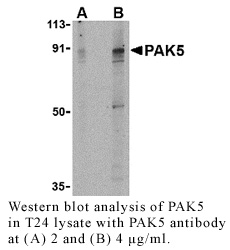 Antibody Details
Product Details
Formulation
This polyclonal antibody is formulated in phosphate buffered saline (PBS) pH 7.4 containing 0.02% sodium azide as a preservative.
Storage and Handling
This polyclonal antibody is stable for at least one week when stored at 2-8°C. For long term storage, aliquot in working volumes without diluting and store at –20°C in a manual defrost freezer. Avoid Repeated Freeze Thaw Cycles.
Each investigator should determine their own optimal working dilution for specific applications. See directions on lot specific datasheets, as information may periodically change.
Description
Specificity
Rabbit Anti-Human P21-Activated Kinase 5 (PAK5) recognizes Human PAK5. This polyclonal antibody was purified using affinity chromatography.
Background
The p21-activated kinases (PAKs) are serine-threonine kinases that bind to the active forms of Cdc42 and Rac. They are divided into two groups, the first of which include PAK1, 2 and 3, and can be activated by Cdc42/Rac binding. Group 1 PAKs contain an autoinhibitory domain whose activity is regulated by Cdc42/Rac binding. The group 1 PAKs are known to be involved in cellular processes such as gene transcription, apoptosis, and cell morphology and motility. Much less is known about the second group, which includes PAK4, 5 and 6. These proteins are not activated by Cdc42/Rac binding. PAK5 was initially identified as a kinase expressed primarily in brain that while possessing a kinase domain and GTPase binding domain similar to PAK4 and PAK6, is completely different from both. Expression of PAK5 in neural based cell lines resulted in neurite outgrowth suggesting that PAK5 may be involved in regulating the cytoskeletal changes necessary for promoting neurite outgrowth. Other experiments suggest that unlike the other PAKs, PAK5 may inhibit apoptosis by phosphorylating the Bcl-2 family member Bad.
Antigen Details
References & Citations
1. Jaffer, ZM. et al. (2002) Int. J. Biochem. Cell Biol. 34:713
2. Yang, F. et al. (2001) J. Biol. Chem. 276:15345
3. Kaur, R. et al. (2005) J. Biol. Chem. 280:3323
Technical Protocols
Related Products