Bulk quantities available. Contact us for pricing.
Data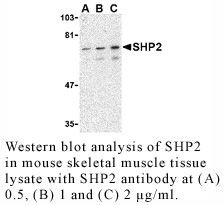 Antibody Details
Product Details
Formulation
This polyclonal antibody is formulated in phosphate buffered saline (PBS) pH 7.4 containing 0.02% sodium azide as a preservative.
Storage and Handling
This polyclonal antibody is stable for at least one week when stored at 2-8°C. For long term storage, aliquot in working volumes without diluting and store at –20°C in a manual defrost freezer. Avoid Repeated Freeze Thaw Cycles.
Each investigator should determine their own optimal working dilution for specific applications. See directions on lot specific datasheets, as information may periodically change.
Description
Specificity
Rabbit Anti-Human SHP2 recognizes an epitope near the C-terminus of Human, Mouse and Rat SHP2. This polyclonal antibody was purified using affinity chromatography.
Background
Src homology-2 domain containing protein (SHP2) is a member of the protein tyrosine phosphatase (PTP) family, a protein family that contains signaling molecules that regulate a variety of cellular processes including cell growth, differentiation, mitotic cycle, and oncogenic transformation. SHP2 contains two tandem Src homology-2 (SH2) domains, which function as phosphotyrosine binding domains either directly or through scaffolding intermediates such as the insulin-receptor substrate 1 (IRS-1). These SH2 domains mediate the interaction of SHP2 with its substrates, allowing SHP2 to dephosphorylate proteins that inhibit signaling kinases such as ERK1 and AKT. SHP2 is widely expressed in most tissues and plays a regulatory role in various cell signaling events that are important for a diversity of cell functions, such as mitogenic activation, metabolic control, transcription regulation, and cell migration. Recent experiments have shown SHP2 plays a significant role in hepatoprotection and liver regeneration.
Antigen Details
References & Citations
1. Yu, Z. et al. (1997) J. Biol. Chem. 272:7519
2. Ostman, A. et al. (2006) Nat. Rev. Cancer 6:307
3. Bard-Chapeau, EA. et al. (2006) Mol. Cell. Biol. 26:4664
Technical Protocols
Related Products