Bulk quantities available. Contact us for pricing.
Data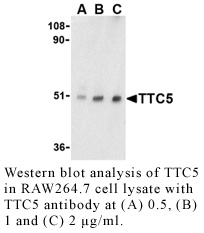 Antibody Details
Product Details
Formulation
This polyclonal antibody is formulated in phosphate buffered saline (PBS) pH 7.4 containing 0.02% sodium azide as a preservative.
Storage and Handling
This polyclonal antibody is stable for at least one week when stored at 2-8°C. For long term storage, aliquot in working volumes without diluting and store at –20°C in a manual defrost freezer. Avoid Repeated Freeze Thaw Cycles.
Each investigator should determine their own optimal working dilution for specific applications. See directions on lot specific datasheets, as information may periodically change.
Description
Specificity
Rabbit Anti-Human Tetratricopeptide Repeat Protein 5 (TTC5) recognizes Human and Mouse TTC5. This polyclonal antibody was purified using affinity chromatography.
Background
Tetratricopeptide repeat protein 5 (TTC5) is a member of a diverse group of functionally distinct proteins that are characterized by containing one or more tetratricopeptide repeats.1 Each motif consists of two anti-parallel a-helices such that tandem arrays of TPR motifs generate a right-handed helical structure with an amphipathic channel that may serve to accommodate the complementary region of a target protein. While the exact function of TTC5 remains unclear, it is thought that the TPR motifs serve to mediate protein-protein interactions such as those seen with protein chaperones HSP70 and HSP90,2 and some proteins involved in cell stress response signaling pathways such as protein phosphatase 5,3 suggesting that TTC5 may also function via protein-protein interactions mediated by its TPR motifs.
Antigen Details
References & Citations
1. Blatch, GL. et al. (1999) BioEssays 21:932
2. Song, Y. et al. (2005) J. Biol. Chem. 280:34178
3. Yang, J. et al. (2005) EMBO J. 24:1
Technical Protocols
Related Products