Bulk quantities available. Contact us for pricing.
Data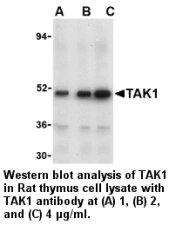 Antibody Details
Product Details
Formulation
This polyclonal antibody is formulated in phosphate buffered saline (PBS) pH 7.4 containing 0.02% sodium azide as a preservative.
Storage and Handling
This polyclonal antibody is stable for at least one week when stored at 2-8°C. For long term storage, aliquot in working volumes without diluting and store at –20°C in a manual defrost freezer. Avoid Repeated Freeze Thaw Cycles.
Each investigator should determine their own optimal working dilution for specific applications. See directions on lot specific datasheets, as information may periodically change.
Description
Specificity
Rabbit Anti-Human TGF-β Activated Protein Kinase 1 (TAK1) recognizes Human, Mouse and Rat TAK1. This polyclonal antibody was purified using affinity chromatography.
Background
TAK1 (TGF-β; activated protein kinase 1) is a widely expressed enzyme originally identified as a mitogen-activated protein kinase kinase kinase (MAP3K7).1 It has since been shown to mediate various intracellular signaling pathways, such as those induced by TGF-Β and members of the Toll-IL-1R (TIR) superfamily,2 thus acting as an intermediate in both proliferative and innate and adaptive immune responses.3 TAK1 is normally present in cells in a complex with TAK1-binding protein 1 (TAB1) and either TAB2 or TAB3.4 Association with TAB1 triggers TAK1 kinase activity by inducing TAK1 autophosphorylation, while TAB2 and possibly TAB3 may contribute to SAPK2a/p38a-mediated feedback inhibition of TAK1 activity.
Antigen Details
References & Citations
1. Yamaguchi, K. et al. (1995) Science 270:2008
2. Irie, T. et al. (2000) FEBS Lett. 467:160
3. Akira, S. et al. (2004) Nat. Rev. Immunol. 4:499
4. Jiang, Z. et al. (2002) Mol. Cell Biol. 22:7158
Technical Protocols
Related Products