Bulk quantities available. Contact us for pricing.
Data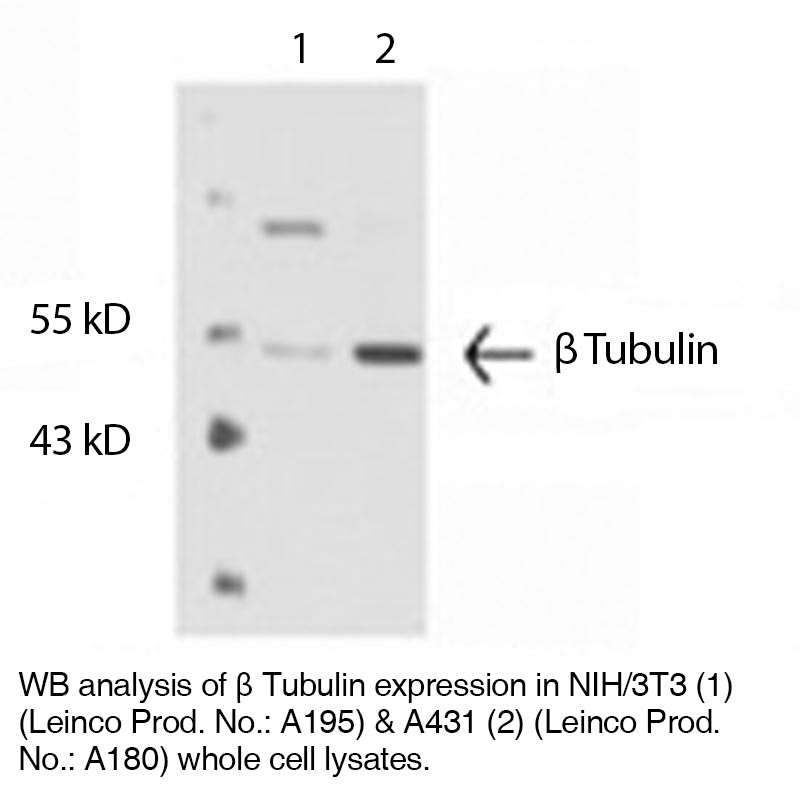 Antibody Details
Product Details
Immunogen
Purified Rat Brain Tubulin
Formulation
This purified antibody is formulated in 0.01 M phosphate buffered saline (150 mM NaCl) PBS pH 7.4, 1% BSA and 0.09% sodium azide as a preservative.
Storage and Handling
This purified antibody is stable when stored at 2-8°C. Do not freeze.
Each investigator should determine their own optimal working dilution for specific applications. See directions on lot specific datasheets, as information may periodically change.
Description
Specificity
Mouse Anti-Human β-Tubulin (Clone TUB2.1) recognizes an epitope on β-Tubulin between amino acids 281-446. This monoclonal antibody was purified using multi-step affinity chromatography methods such as Protein A or G depending on the species and isotype.
Antigen Distribution
β-tubulin is present in all nucleated eukaryotic cells. The antigen recognized by this antibody is present in most all species of living organisms.
Background
A Tubulin is one of several members of a small family of globular proteins. The most common members of the tubulin family are α-tubulin and β-tubulin, the proteins which make up microtubules. Each has a molecular weight of approximately 55 kiloDaltons. Microtubules are assembled from dimers of α- and β-tubulin. To form microtubules, the dimers of α- and β-tubulin bind to GTP and assemble onto the (+) ends of microtubules while in the GTP-bound state. After being incorporated into the microtubule, the bound molecule of GTP will hydrolize into GDP. Although both subunits bind GTP, only the β-subunit has GTPase activity; that is, β-tubulin can hydrolize GTP to GDP whereas α-tubulin cannot. Whether the β-tubulin member of the tubulin dimer is bound to GTP or GDP influences the stability of the dimer in the microtubule. Dimers bound to GTP tend to assemble into microtubules, while dimers bound to GDP tend to fall apart; thus, this GTP cycle is essential for the dynamic instability of the microtubule.
Antigen Details
Research Area
Neuroscience Cell Markers
References & Citations
1. Gozes, I. and Barnstable, C. (1982) Proc. Natl. Acad. Sci. 79:2579
2. Southwick, P.L. et al. (1990) Cytometry 11:418
3. Matthes, T. et al. (1988) J. Immunol 141:3135

Technical Protocols
Related Products
Formats Available