Bulk quantities available. Contact us for pricing.
Data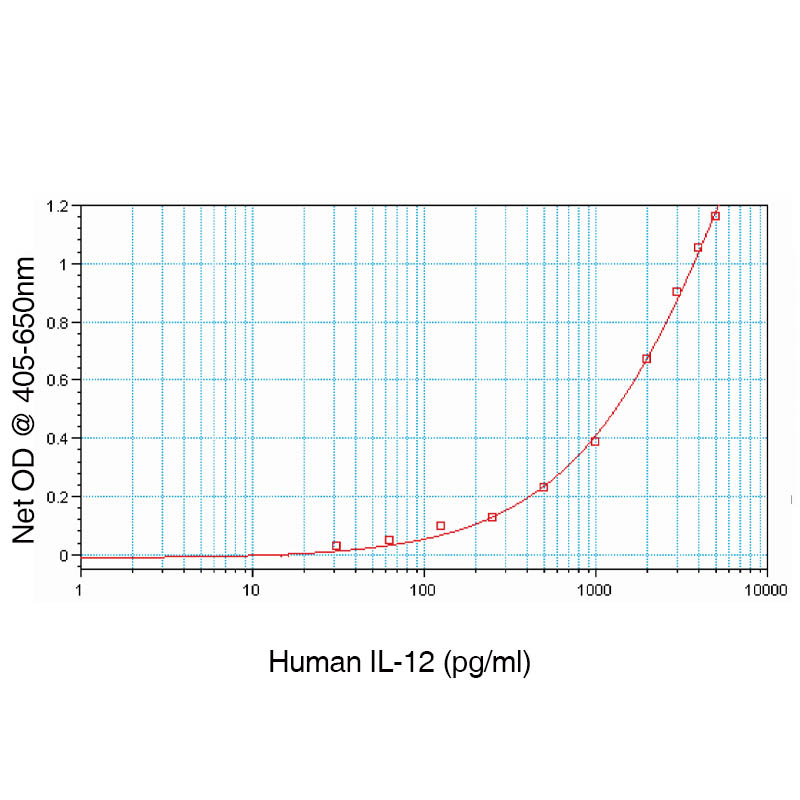 Background
Interleukin 12 (IL-12, NK cell stimulatory factor, cytotoxic lymphocyte maturation factor) is a heterodimeric cytokine that is naturally produced by dendritic cells1 , macrophages and human B-lymphoblastoid cells (NC-37) in response to antigenic stimulation. IL-12 is involved in the differentiation of naive T cells into Th1 cells, which is important in resistance against pathogens. It is known as a T cell stimulating factor, which can stimulate the growth and function of T cells. It stimulates the production of IFN-γ and TNF-α from T and natural killer (NK) cells, and reduces IL-4 mediated suppression of IFN-γ. IL-12 also has anti-angiogenic activity, which can block the formation of new blood vessels. IL-12 binds to the IL-12 receptor and upon binding, IL-12R-β2 becomes tyrosine phosphorylated and provides binding sites for kinases, Tyk2 and Jak2. These are important in activating critical transcription factor proteins such as STAT4 which are implicated in IL-12 signaling in T cells and NK cells.2 IL-12 contributes to the antimycobacterial immune response by enhancing production of interferon-gamma, facilitating development of Th1 cells and augmenting cytotoxicity of antigen-specific T cells and natural killer cells.3
References & Citations
1. Kapsenberg, ML. et al. (1997) J. Immunol. 159: 28
2. Ritz, J. et al. (2001) Blood. 97(12):3860-6.
3. Barnes, PF. et al. (1994) J Clin Invest. 93(4):1733-9.
Related Products