Recombinant SARS-CoV-2, RBD Protein
Product No.: S851
Alternate Names
Spike Protein, SARS-CoV-2 Spike Protein, S1 Protein, S1 Subunit, S Protein, Receptor Binding Domain, RBD
Product Type
Recombinant Protein
---
Data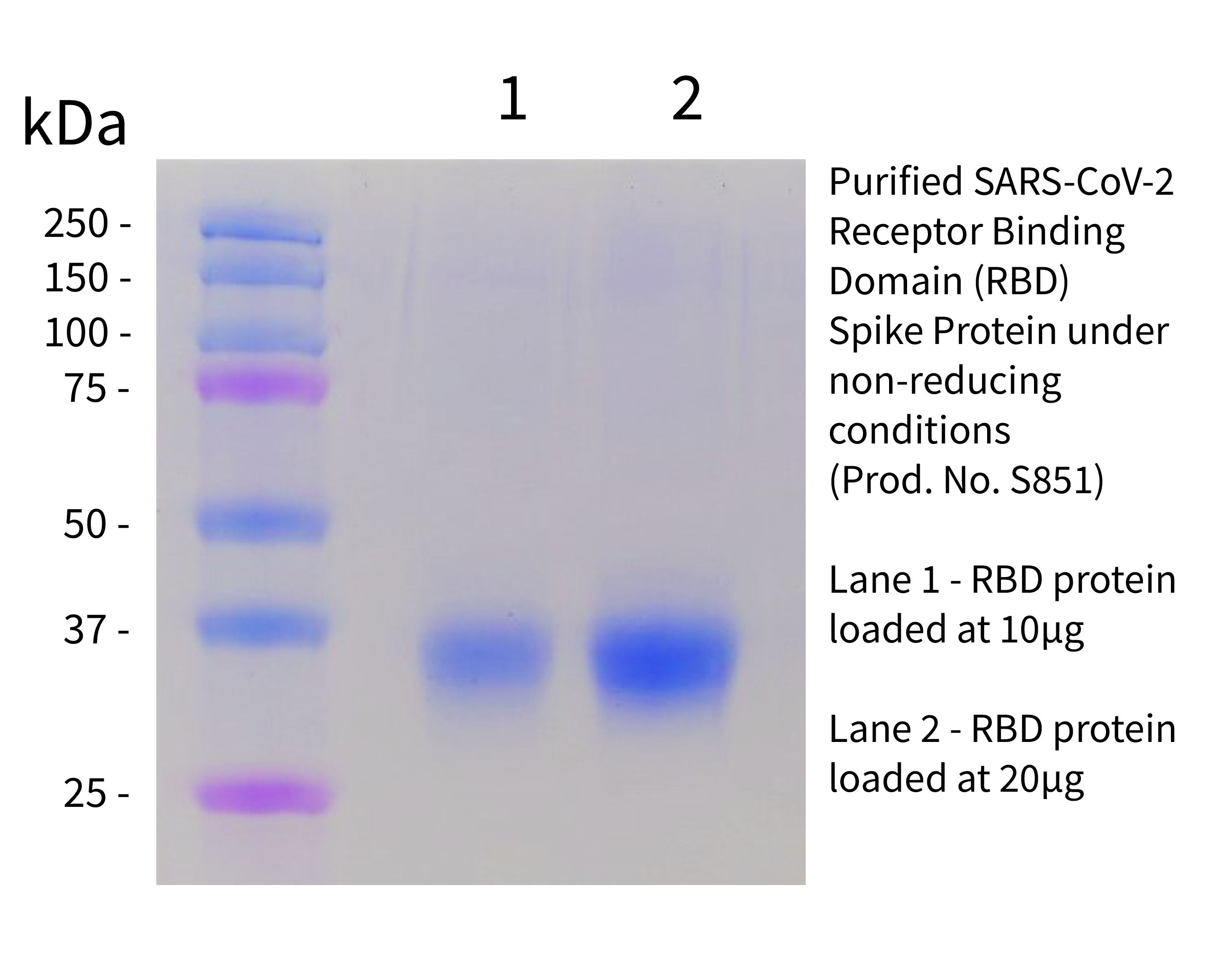 Background
Severe acute respiratory syndrome coronavirus 2 (SARS-CoV-2), the causative agent of coronavirus disease 2019 (COVID-19), is an enveloped, single-stranded, positive-sense RNA virus that belongs to the Coronaviridae family 1. The SARS-CoV-2 genome, which shares 79.6% identity with SARS-CoV, encodes four essential structural proteins: the spike (S), envelope (E), membrane (M), and nucleocapsid protein (N) 2. The S protein is a transmembrane, homotrimeric, class I fusion glycoprotein that mediates viral attachment, fusion, and entry into host cells 3. Each ~180 kDa monomer contains two functional subunits, S1 (~700 a.a) and S2 (~600 a.a), that mediate viral attachment and membrane fusion, respectively. S1 contains two major domains, the N-terminal (NTD) and C-terminal domains (CTD). The CTD contains the receptor-binding domain (RBD), which binds to the angiotensin-converting enzyme 2 (ACE2) receptor on host cells 3-5. Although both SARS-CoV and SARS-CoV-2 bind the ACE2 receptor, the RBDs only share ~73% amino acid identity, and the SARS-CoV-2 RBD binds with a higher affinity compared to SARS-CoV 3, 6. The RBD is dynamic and undergoes hinge-like conformational changes, referred to as the "down" or "up" conformations, which hide or expose the receptor-binding motifs, respectively 7. Following receptor binding, S1 destabilizes, and TMPRSS2 cleaves S2, which undergoes a pre- to post-fusion conformation transition, allowing for membrane fusion 8, 9.

Polyclonal RBD-specific antibodies can block ACE2 binding 10, 11, and anti-RBD neutralizing antibodies are present in the sera of convalescent COVID19 patients 12, identifying the RBD as an attractive candidate for vaccines and therapeutics. In addition, the RBD is poorly conserved, making it a promising antigen for diagnostic tests 13 14. Serologic tests for the RBD are highly sensitive and specific for detecting SARS-CoV-2 antibodies in COVID19 patients 13 15. Furthermore, the levels of anti-RBD antibodies correlated with SARS-CoV-2 neutralizing antibodies, suggesting the RBD could be used to predict an individual's risk of disease 13.
Protein Details
Format
Purified No Carrier Protein
Endotoxin Level
<0.10 EU per 1 μg of the protein by the LAL method
Amino Acid Sequence
RVQPTESIVRFPNITNLCPFGEVFNATRFASVYAWNRKRISNCVADYSVLYNSASFSTFK CYGVSPTKLNDLCFTNVYADSFVIRGDEVRQIAPGQTGKIADYNYKLPDDFTGCVIAWN SNNLDSKVGGNYNYLYRLFRKSNLKPFERDISTEIYQAGSTPCNGVEGFNCYFPLQSYGF QPTNGVGYQPYRVVVLSFELLHAPATVCGPKKSTNLVKNKCVNFNFNGLTGTGVLTESN KKFLPFQQFGRDIADTTDAVRDPQTLEILDITPCS
State of Matter
Sterile Liquid
Predicted Molecular Mass
The predicted molecular mass is ~33 kDa.
Formulation
This recombinant protein is aseptically packaged and formulated in 0.01 M phosphate buffered saline (PBS) pH 7.2 - 7.4, 150 mM NaCl with no carrier protein, potassium, calcium or preservatives added. Due to inherent biochemical properties of proteins, certain products may be prone to precipitation over time. Precipitation may be removed by aseptic centrifugation and/or filtration.
Storage and Stability
This recombinant protein may be stored as received at 2-8°C for up to one month. For longer term storage, aseptically aliquot in working volumes without diluting and store at -80°C. Avoid Repeated Freeze Thaw Cycles.
Shipping
Next Day Ice Pack
Applications and Recommended Usage ?
(Quality Tested by Leinco)
ELISA
References & Citations
1. Zhou, P., Yang, X., Wang, X. et al. Nature 579, 270–273. 2020.
2. Wu, F., Zhao, S., Yu, B. et al. Nature 579, 265–269. 2020.
3. Wrapp D, Wang N, Corbett KS, et al. bioRxiv. 2020.02.11.944462. 2020.
4. Walls AC, Park YJ, Tortorici MA, Wall A, McGuire AT, Veesler D. Cell. 181(2):281-292.e6. 2020.
5. Li W, Zhang C, Sui J, et al. EMBO J. 24(8):1634-1643. 2005.
6. Shang, J., Ye, G., Shi, K. et al. Nature 581, 221–224. 2020.
7. Gui M, Song W, Zhou H, et al. Cell Res. 27(1):119-129. 2017.
8. Walls AC, Tortorici MA, Snijder J, et al. Proc Natl Acad Sci U S A. 114(42):11157-11162. 2017.
9. Hoffmann M, Kleine-Weber H, Schroeder S, et al. Cell. 181(2):271-280.e8. 2020.
10. Huo J, Zhao Y, Ren J, et al. Cell Host Microbe. S1931-3128(20)30351-6. 2020.
11. Tai, W., He, L., Zhang, X. et al. Cell Mol Immunol 17, 613–620. 2020.
12. Cao Y, Su B, Guo X, et al. Cell. 182(1):73-84.e16. 2020.
13. Premkumar L, Segovia-Chumbez B, Jadi R, et al. medRxiv; 2020.
14. Quinlan BD, Mou H, Zhang L, et al. bioRxiv; 2020.
15. Olba NM, Muller MA, Li W, et al. medRxiv; 2020.
Technical Protocols
IMPORTANT Use lot specific datasheet for all technical information pertaining to this recombinant protein.
Related Products