Bulk quantities available. Contact us for pricing.
Data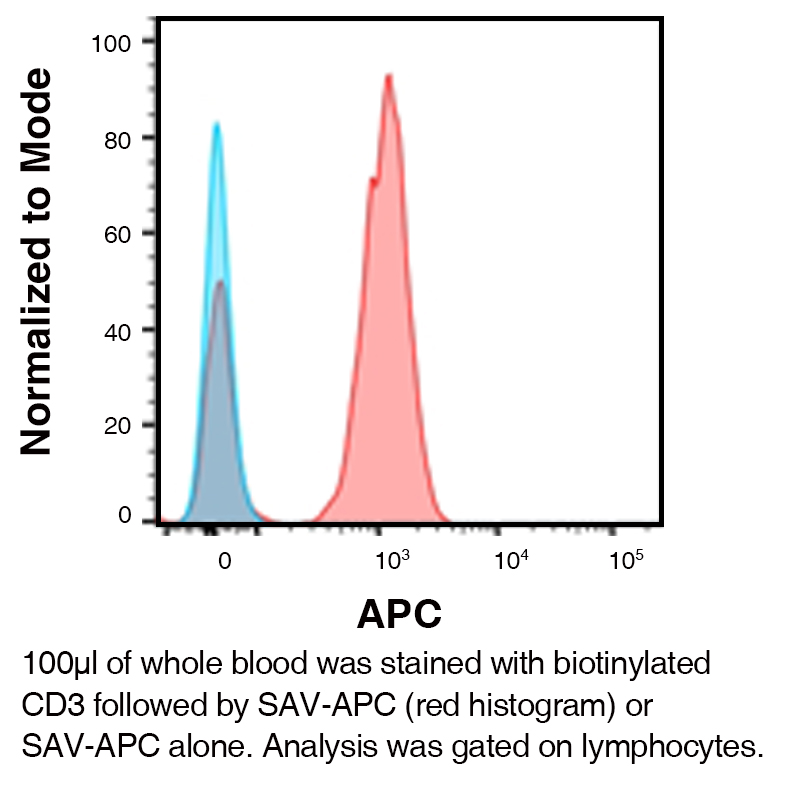 Background
Streptavidin is a biotin binding protein present in the fermentation broth of the bacterium Streptomyces avidinii. Each molecule of streptavidin can bind four molecules of biotin with a high affinity constant (Kd~10 -15). Unlike native avidin, streptavidin is not glycosylated and has a near neutral isoelectric point (pI ~ 5-6) vs a pI of 10 for native avidin.
Protein Details
Formulation
This Allophycocyanin (APC) conjugate is formulated in 0.01 M phosphate buffered saline (150 mM NaCl) PBS pH 7.4, 1% BSA and 0.09% sodium azide as a preservative.
Working Concentration
1:50 - 1:200 for most applications
Storage and Stability
The lyophilized streptavidin is stable when stored at 2-8°C. After reconstitution the streptavidin may be stored as an undiluted liquid at 2-8°C for six weeks. For extended storage as a liquid store product at –20°C in a manual defrost freezer. Avoid Repeated Freeze Thaw Cycles.
IMPORTANT Use lot specific datasheet for all technical information pertaining to this recombinant protein.
Related Products