Data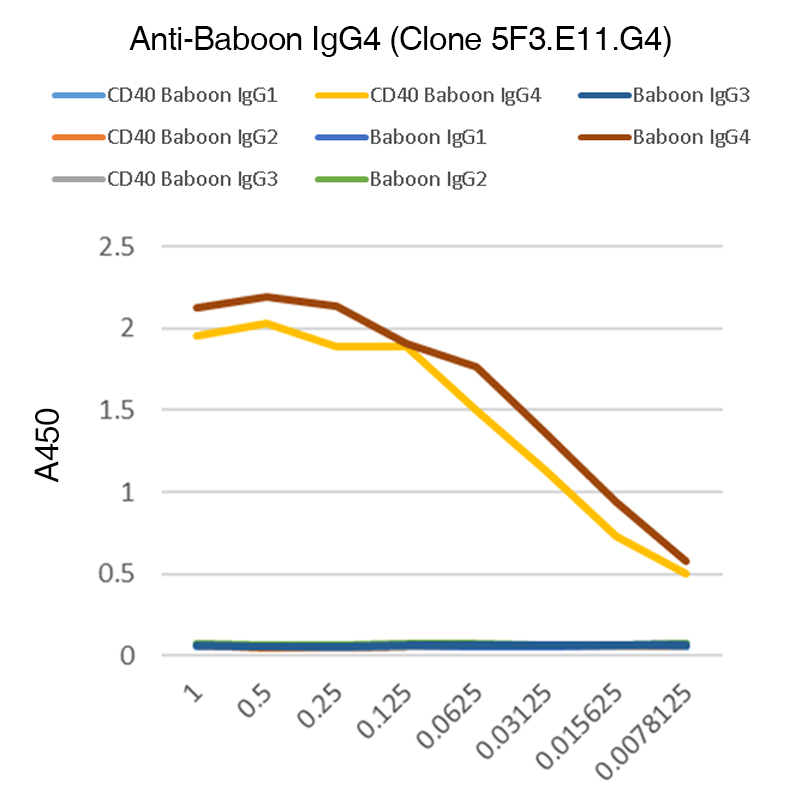 Antibody Details
Product Details
Immunogen
Derived from mice immunized and screened using whole molecule.
Formulation
This monoclonal antibody is aseptically packaged and formulated in 0.01 M phosphate buffered saline (150 mM NaCl) PBS pH 7.2 - 7.4 with no carrier protein, potassium, calcium or preservatives added.
Storage and Handling
This antibody is stable for at least one week when stored at 2-8°C. For long term storage, aliquot in working volumes without diluting and store at – 20°C in a manual defrost freezer. Avoid Repeated Freeze Thaw Cycles.
Applications and Recommended Usage?
Quality Tested by Leinco
ELISA The best practice is to titrate the antibodies under the same staining conditions you will use in your assay.
Each investigator should determine their own optimal working dilution for specific applications. See directions on lot specific datasheets, as information may periodically change.
Description
Specificity
This antibody recognizes the constant region of the baboon IgG4 molecule specifically, whether the baboon IgG4 molecule is bound to its antigen or not.
Technical Protocols
Formats Available