Contact Us For Academic mAb Advantage Pricing
Data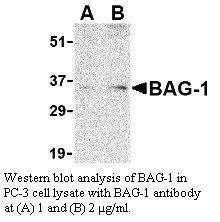 Antibody Details
Product Details
Formulation
This polyclonal antibody is formulated in phosphate buffered saline (PBS) pH 7.4 containing 0.02% sodium azide as a preservative.
Storage and Handling
This polyclonal antibody is stable for at least one week when stored at 2-8°C. For long term storage, aliquot in working volumes without diluting and store at –20°C in a manual defrost freezer. Avoid Repeated Freeze Thaw Cycles.
Each investigator should determine their own optimal working dilution for specific applications. See directions on lot specific datasheets, as information may periodically change.
Description
Specificity
Rabbit Anti-Human BAG-1 recognizes an epitope near the N-terminus of human and mouse BAG-1. This polyclonal antibody was purified using affinity chromatography.
Background
Bcl-2-associated athanogene 1 (BAG-1) was first identified as an anti-apoptotic bcl-2-binding protein. Later it was found to bind the molecular chaperones Hsp70 and Hsc70 through its carboxy-terminal sequence (termed the Bag domain), resulting in the inhibition of the refolding activity of these chaperones. It is thought that by binding and inhibiting these molecular chaperones, BAG-1is able to modulate the expression level of proteins requiring chaperones to fold correctly. One such group of proteins that are affected is glucocorticoid receptors. Other reports have suggested that the level of BAG-1 expression correlates with the aggressiveness of various cancers. Multiple isoforms of BAG-1 are known to exist.
Antigen Details
References & Citations
1. Takayama, S. et al. (1995) Cell 80:279-84.
2. Nollen, EAA. et al. (2000) Mol. Cell. Biol. 20:1083-8.
3. Cato, ACB. and Mink, S. (2001) J Steroid Biochem Mol Biol. 78(5):379-88.
4. Kajewska, M. et al. (2006) Prostate 66:801-10.
Technical Protocols
Related Products