Bulk quantities available. Contact us for pricing.
Data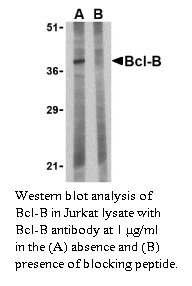 Antibody Details
Product Details
Formulation
This polyclonal antibody is formulated in phosphate buffered saline (PBS) pH 7.4 containing 0.02% sodium azide as a preservative.
Storage and Handling
This polyclonal antibody is stable for at least one week when stored at 2-8°C. For long term storage, aliquot in working volumes without diluting and store at –20°C in a manual defrost freezer. Avoid Repeated Freeze Thaw Cycles.
Each investigator should determine their own optimal working dilution for specific applications. See directions on lot specific datasheets, as information may periodically change.
Description
Specificity
Rabbit Anti-Human Bcl-B recognizes Human Bcl-B. This polyclonal antibody was purified using affinity chromatography.
Background
Members in the Bcl-2 family are critical regulators of apoptosis by either inhibiting or promoting cell death. Bcl-B is a recently discovered anti-apoptotic member of the Bcl-2. Unlike the mouse homolog (also known as Diva/Boo) which is predominantly expressed in ovary and testis, the human Bcl-B protein is widely expressed. Also, the human Bcl-B functions by binding to and suppressing the apoptotic activity of Bax, whereas the mouse homolog binds Bak and also interacts with the apoptosis protein Apaf-1. Despite its predicted molecular weight, Bcl-B is often at higher molecular weights, presumably due to post-translational modifications.
Antigen Details
References & Citations
1. Cory, S. et al. (2003) Oncogene 22:8590-607
2. Heiser, D. et al. (2004) Exp. Geron. 39:1125-35.
3. Ke, N. et al. (2001) J. Biol. Chem. 276:12481-4.
4. Song, Q. et al. (1999) EMBO J. 18:167-78.
Technical Protocols
Related Products