Bulk quantities available. Contact us for pricing.
Data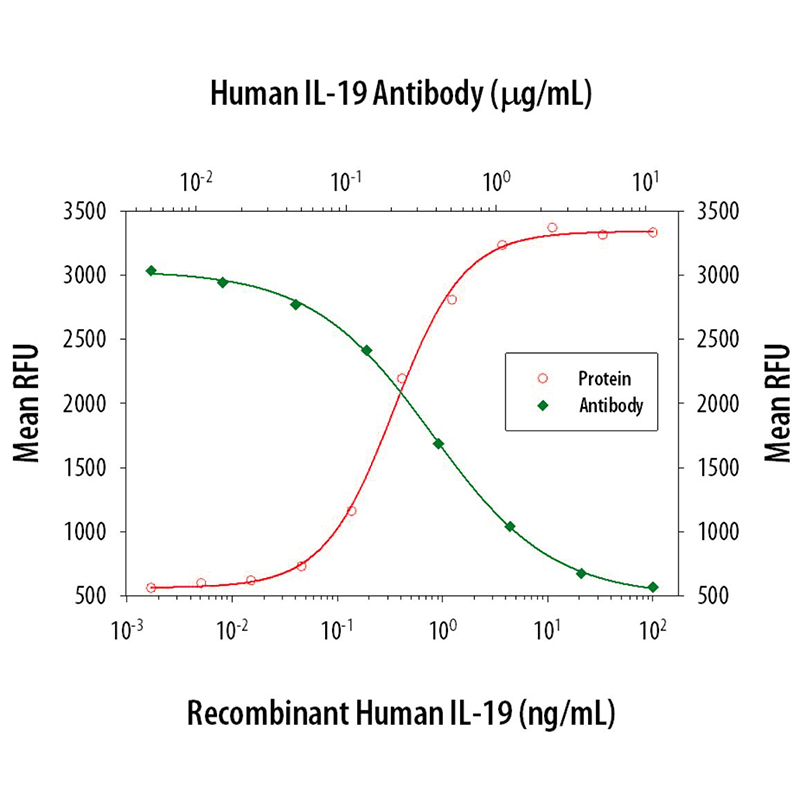 Antibody Details
Product Details
Immunogen
Purified Recombinant Human IL-19 (Accession # AAN40906)
Formulation
This monoclonal antibody has been 0.2 µm filtered and lyophilized from modified Dulbecco's phosphate buffered saline (1X PBS) pH 7.2 - 7.3 containing 5.0% w/v trehalose with no calcium, magnesium or preservatives present.
Storage and Handling
The lyophilized antibody can be stored desiccated at -20°C to -70°C for up to twelve months. The reconstituted antibody can be stored for at least four weeks at 2-8°C. For long-term storage of the reconstituted antibody, aseptically aliquot into working volumes and store at -20°C to -70°C in a manual defrost freezer. Avoid repeated freeze thaw cycles. No detectable loss of activity was observed after six months.
Applications and Recommended Usage?
Quality Tested by Leinco
Flow Cytometry:
It is recommended to use the indirect method for signal enhancement when enumerating cells expressing IL-19. A suggested method would be to stain cells expressing IL-19 with 2.5 µg/10
6
cells in a total staining volume of 200 µl followed by
PN:M1189
.
Neutralization:
This antibody is useful for neutralization of Human IL-19 bioactivity. The antibody dose required to neutralize 50% (ND
50
) of the biological activity of Human IL-19 (at 3 ng/ml) is 0.2-0.5 µg/ml.
Other Applications Reported In Literature ?
Neutralization: Measured by its ability to neutralize IL‑19-induced proliferation in the BaF3 mouse pro‑B cell line co-transfected with human IL‑20 R alpha and IL‑20 R beta. The Neutralization Dose (ND50) is typically 0.2-0.5 µg/mL in the presence of 3 ng/mL Recombinant Human IL‑19.
CyTOF-ready: Ready to be labeled using established conjugation methods. No BSA or other carrier proteins that could interfere with conjugation.
Each investigator should determine their own optimal working dilution for specific applications. See directions on lot specific datasheets, as information may periodically change.
Description
Specificity
Mouse Anti-Human Interleukin 19 (IL-19) (Clone 152112) recognizes an epitope on Human IL-19. This monoclonal antibody was purified using multi-step affinity chromatography methods such as Protein A or G depending on the species and isotype.
Antigen Details
Technical Protocols
Related Products
Formats Available