Bulk quantities available. Contact us for pricing.
Data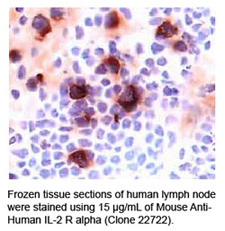 Antibody Details
Product Details
Immunogen
Purified Recombinant Human IL-2 Rα (Accession # P01589)
Formulation
This monoclonal antibody has been 0.2 µm filtered and lyophilized from modified Dulbecco's phosphate buffered saline (1X PBS) pH 7.2 - 7.4 containing 5.0% w/v trehalose with no calcium, magnesium or preservatives present.
Storage and Handling
The lyophilized antibody can be stored desiccated at -20°C to -70°C for up to twelve months. The reconstituted antibody can be stored for at least four weeks at 2-8°C. For long-term storage of the reconstituted antibody, aseptically aliquot into working volumes and store at -20°C to -70°C in a manual defrost freezer. Avoid repeated freeze thaw cycles. No detectable loss of activity was observed after six months.
Applications and Recommended Usage?
Quality Tested by Leinco
Western Blotting:
To detect Human IL-2 Rα this monoclonal antibody can be used at a concentration of 1-2 µg/ml. This monoclonal antibody should be used in conjunction with compatible second-step reagents such as
PN:M114
and a chromogenic substrate such as
PN:T343
. The detection limit for Human IL-2 Rα is 50 ng/lane under either reducing or non-reducing conditions. The sensitivity of detection may increase up to 50 fold when a chemiluminescent substrate is used. A suitable Western blotting control is
PN:I-184
.
Other Applications Reported In Literature ?
IHC (NBF/Par.): This antibody should give satisfactory staining results when used at a concentration of 2-15 µg/ml. The recommended secondary antibody for IHC is PN:M114. For chromogenic detection with high signal and low background use PN:D100 or PN:K107.
Neutralization: This antibody is useful for neutralization of Human IL-2R α bioactivity. The antibody dose required to neutralize 50% (ND50) of the biological activity of Human IL-2R α (at 1 ng/ml) is 0.5-1.0 µg/ml.
Immunocytochemistry: Suitable for use at concentration of 8-25 µg/mL.
Each investigator should determine their own optimal working dilution for specific applications. See directions on lot specific datasheets, as information may periodically change.
Description
Specificity
Mouse Anti-Human Interleukin-2 Receptor alpha (IL-2Rα) (Clone 22722) recognizes an epitope on Human IL-2Rα. This monoclonal antibody was purified using multi-step affinity chromatography methods such as Protein A or G depending on the species and isotype.
Background
IL-2 receptor alpha chain (IL-2Ralpha) is a component of high-affinity IL-2 receptors and thus is a key regulator of lymphocyte proliferation.1 IL-2R alpha expression occurs at specific stages of early T and B lymphocyte development and is induced upon activation of mature lymphocytes. IL-2R alpha is essential for regulation of both the size and content of the peripheral lymphoid compartment, probably by influencing the balance between clonal expansion and cell death following lymphocyte activation.2 IL-2Ralpha is also important in the formation of high-affinity binding sites, and the inducibility of the alpha gene contributes to the highly regulated and transient display of high-affinity IL-2R.3
Antigen Details
References & Citations
1. Leonard, WJ. et al. (2002) The EMBO Journal 21: 3051
2. Alt, FW. et al. (1995) Immnnity 3: 521
3. Greene, WC. et al. (1990) J Invest Dermatol. 94: 27S
Technical Protocols
Related Products
Formats Available