Bulk quantities available. Contact us for pricing.
Data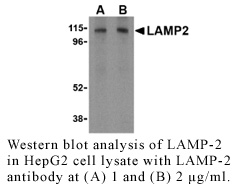 Antibody Details
Product Details
Formulation
This polyclonal antibody is formulated in phosphate buffered saline (PBS) pH 7.4 containing 0.02% sodium azide as a preservative.
Storage and Handling
This polyclonal antibody is stable for at least one week when stored at 2-8°C. For long term storage, aliquot in working volumes without diluting and store at –20°C in a manual defrost freezer. Avoid Repeated Freeze Thaw Cycles.
Each investigator should determine their own optimal working dilution for specific applications. See directions on lot specific datasheets, as information may periodically change.
Description
Specificity
Rabbit Anti-Human Lysosome Associated Membrane Protein 2 (LAMP-2) recognizes mouse and human LAMP-2. This polyclonal antibody was purified using affinity chromatography.
Background
Autophagy, the process of bulk degradation of cellular proteins through an autophagosomic-lysosomal pathway is important for normal growth control and may be defective in tumor cells. It is involved in the preservation of cellular nutrients under starvation conditions as well as the normal turnover of cytosolic components1,2 and is negatively regulated by TOR (Target of rapamycin).3 LAMP-2, a highly glycosylated protein associated with the lysosome,4 has recently been shown to be important in autophagy as mice deficient in this protein failed to convert autophagic vacuoles into vacuoles leading to impaired degradation of long-lived proteins. This correlates with the finding that human LAMP-2 deficiency causing Danon's disease is associated with the accumulation of autophagic material in striated myocytes. LAMP-2 exists in multiple isoforms.
Antigen Details
References & Citations
1. Gozuacik, D and Kimchi, A. (2004) Oncogene. 23:2891-906.
2. Kisen, GO. et al. (1993) Carcinogenesis 14:2501-5.
3. Shintanim, T. et al. (2000) J. Cell. Biol. 150:1507-13.
4. Gabel, CA. et al. (1990) J. Biol. Chem. 265:12036-43.
5. Suter, A. et al. (2000) Nature 406(6798):902-6.
6. Hirano, M. et al. (2000) Nature. 406(6798):906-10.
7. Fambrough, DM. et al. (1995) DNA Cell Biol. 14:863-7.
Technical Protocols
Related Products