Bulk quantities available. Contact us for pricing.
Data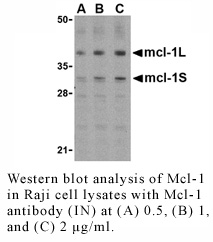 Antibody Details
Product Details
Formulation
This polyclonal antibody is formulated in phosphate buffered saline (PBS) pH 7.4 containing 0.02% sodium azide as a preservative.
Storage and Handling
This polyclonal antibody is stable for at least one week when stored at 2-8°C. For long term storage, aliquot in working volumes without diluting and store at –20°C in a manual defrost freezer. Avoid Repeated Freeze Thaw Cycles.
Each investigator should determine their own optimal working dilution for specific applications. See directions on lot specific datasheets, as information may periodically change.
Description
Specificity
Rabbit Anti-Human Mcl-1 recognizes an epitope in the intermediate domain of Human Mcl-1. This polyclonal antibody was purified using affinity chromatography.
Background
Myeloid cell leukimia-1 (Mcl-1) is a member of the Bcl-2 family of proteins that can act to promote cell survival (reviewed in 1). While the mechanism by which Mcl-1 inhibits apoptosis is not known, it is thought that it may heterodimerize and neutralize pro-apoptotic members of the Bcl-2 family such as Bim or Bak.2,3 Mcl-1 was originally identified in differentiating myeloid cells, but has since been shown to be expressed in multiple cell types. Mcl-1 is essential for embryogenesis and for the development and maintenance of B and T lymphocytes in animals.3 Mcl-1 exists as at least two distinct isoforms designated Mcl-1L and Mcl-1S. In marked contrast to the larger isoform of Mcl-1, overexpression of Mcl-1S promotes cell death.
Antigen Details
References & Citations
1. Edwards, SW. et al. (2004) Biochem Soc Trans. 32:489
2. Cuconati, A. et al. (2003) Genes and Dev. 17:2922
3. Opferman, JT. et al. (2003) Nature 426:671
4. Kozopas, KM. et al. (1993) Proc. Natl. Acad. Sci. USA 90:3516
Technical Protocols
Related Products