Bulk quantities available. Contact us for pricing.
Data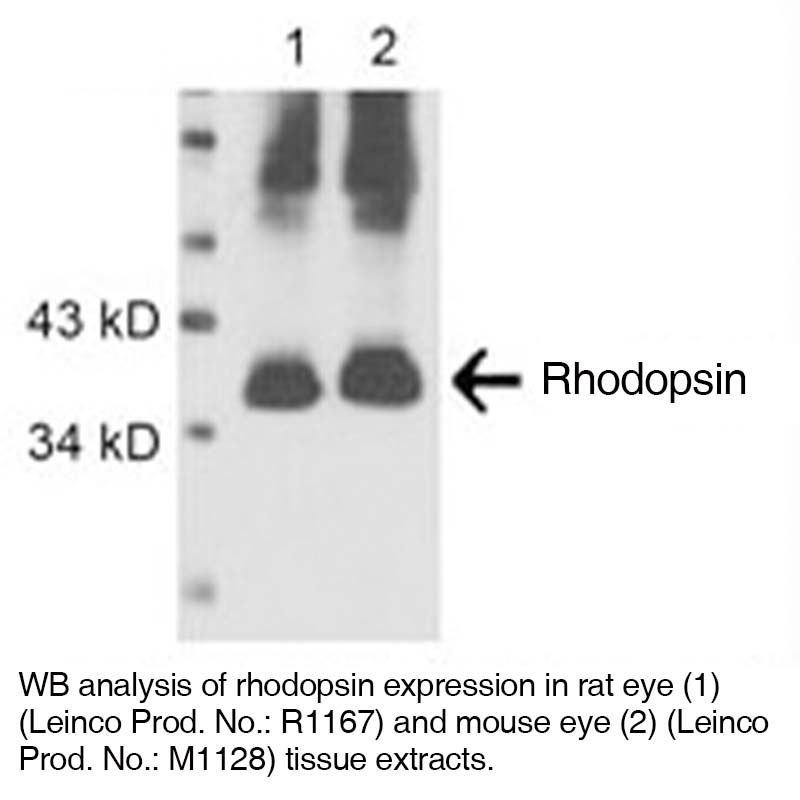 Antibody Details
Product Details
Formulation
This purified antibody is formulated in 0.01 M phosphate buffered saline (150 mM NaCl) PBS pH 7.4, 1% BSA and 0.09% sodium azide as a preservative.
Storage and Handling
This purified antibody is stable when stored at 2-8°C. Do not freeze.
Each investigator should determine their own optimal working dilution for specific applications. See directions on lot specific datasheets, as information may periodically change.
Description
Specificity
Mouse Anti-Human Rhodopsin (Clone RET-P1) recognizes a (Mr 39 kD) glycoprotein which is a visual pigment in mammals, birds, amphibians and reptiles.1,2,3
Antigen Distribution
The Rhodopsin antigen is present on the photoreceptor cells in the retina. The antibody RET-P1 specifically labels the axons and synaptic pedicles of the rods being labelled.1,2,3
Background
Rhodopsin, also known as visual purple, is expressed in metazoan photoreceptor cells. It is a pigment of the retina that is responsible for both the formation of the photoreceptor cells and the first events in the perception of light. Rhodopsins belong to the class of G-protein coupled receptors. Rhodopsin is extremely sensitive to light, and enables night-vision. Exposed to white light, the pigment immediately bleaches, and it takes about 30 minutes to regenerate fully in humans.
Antigen Details
References & Citations
1. Barnstable, C. J. et al. (1980) Nature 286:231 2. Hicks, D. et al. (1987) J. Histochem. Cytochem. 35:1317 3. Treisman, J. E. et al. (1988) Molec. Cell. Biol. 8:1570
Technical Protocols
Formats Available