Contact Us For Academic mAb Advantage Pricing
Data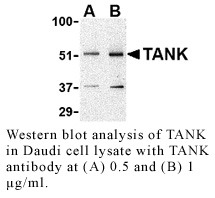 Antibody Details
Product Details
Formulation
This polyclonal antibody is formulated in phosphate buffered saline (PBS) pH 7.4 containing 0.02% sodium azide as a preservative.
Storage and Handling
This polyclonal antibody is stable for at least one week when stored at 2-8°C. For long term storage, aliquot in working volumes without diluting and store at –20°C in a manual defrost freezer. Avoid Repeated Freeze Thaw Cycles.
Each investigator should determine their own optimal working dilution for specific applications. See directions on lot specific datasheets, as information may periodically change.
Description
Specificity
Rabbit Anti-Human TANK recognizes an epitope near the N-terminus of Human TANK. This polyclonal antibody was purified using affinity chromatography.
Background
TANK was initially identified as a novel TRAF-interacting protein that regulated TRAF-mediated signal transduction. Specifically, ligand binding by surface receptors in the tumor necrosis factor (TNF) receptor and Toll/interleukin-1 (IL-1) receptor families lead to the formation of a TRAF/TANK complex that mediates the activation of the transcription factor NF-κB. This activation of NF-κB occurs through an association with the kinases IKKε and TBK1. More recently, it was shown that these proteins can then form a complex with NEMO, a protein that regulates the activity of the IκB complex. This suggests that in addition to the possibility that TBK1 and IKKε activate the IKKs, the association with the IKK complex may help these kinases modulate other functions, such as the transactivation potential of NF-κB proteins. At least two isoforms of TANK are known to exist.
Antigen Details
References & Citations
1. Cheng, G. et al. (1996) Genes Dev. 10:963
2. Rothe, M. et al. (1996) Proc. Natl. Acad. Sci. USA 93:8241
3. Pomerantz, JL. et al. (1999) EMBO J. 18:6694
4. Chariot, A. et al. (2002) J. Biol. Chem. 277:37029
Technical Protocols
Related Products