Bulk quantities available. Contact us for pricing.
Data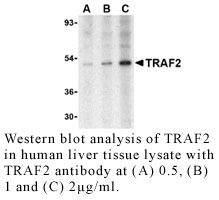 Antibody Details
Product Details
Formulation
This polyclonal antibody is formulated in phosphate buffered saline (PBS) pH 7.4 containing 0.02% sodium azide as a preservative.
Storage and Handling
This polyclonal antibody is stable for at least one week when stored at 2-8°C. For long term storage, aliquot in working volumes without diluting and store at –20°C in a manual defrost freezer. Avoid Repeated Freeze Thaw Cycles.
Each investigator should determine their own optimal working dilution for specific applications. See directions on lot specific datasheets, as information may periodically change.
Description
Specificity
Rabbit Anti-Human TNF Receptor-Associated Factor 2 (TRAF2) recognizes an epitope near the N-terminus of Human, Mouse and Rat TRAF2. This polyclonal antibody was purified using affinity chromatography.
Background
Tumor necrosis factor (TNF) receptor associated factors (TRAFs) were initially discovered as adaptor proteins that link the TNF receptor superfamily to signaling pathways and are thus important regulators of cell death and cellular response to stress.1 TRAF proteins share a homology region that allows them to bind to cell receptors and other TRAF proteins, causing the activation of different signal cascades depending on the TRAFs involved. For example, TRAF2 and TRAF3 directly bind to the CD40, a NF receptor superfamily member involved in inducing B cell immunity,2 and are critical for NF-κB activation in mouse B lymphocytes.3 TRAF2 along with TRAF6 has also been shown to be required for CD40 signaling in nonhemopoietic cells.4 TRAF2 also interacts with the TRFR superfamily member lymphotoxin-b receptor (LTbR) in association with TRAF3 and the apoptosis inhibitors cIAP1 and Smac.
Antigen Details
References & Citations
1. van Kooten, C. et al. (2000) J. Leukoc. Biol. 67:2
2. Grech, AP. et al. (2004) Immunity 21:629
3. Davies, CC. et al. (2005) Mol. Cell. Biol. 25:980
4. Kuai, J. et al. (2003) J. Biol. Chem. 278:14363
Technical Protocols
Related Products