Bulk quantities available. Contact us for pricing.
Data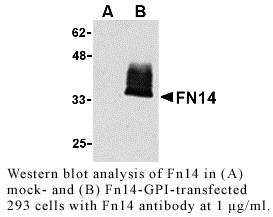 Antibody Details
Product Details
Formulation
This polyclonal antibody is formulated in phosphate buffered saline (PBS) pH 7.4 containing 0.02% sodium azide as a preservative.
Storage and Handling
This polyclonal antibody is stable for at least one week when stored at 2-8°C. For long term storage, aliquot in working volumes without diluting and store at –20°C in a manual defrost freezer. Avoid Repeated Freeze Thaw Cycles.
Each investigator should determine their own optimal working dilution for specific applications. See directions on lot specific datasheets, as information may periodically change.
Description
Specificity
Rabbit Anti-Human TNF-Related Weak Inducer of Apoptosis Receptor (TWEAK R) recognizes Human TWEAK R. This polyclonal antibody was purified using affinity chromatography.
Background
The TWEAK Receptor/FN14, also known as Tumor necrosis factor receptor superfamily member 12A precursor (TNFRSF12A) or fibroblast growth factor-inducable 14, is a secreted type I membrane protein belonging to the distinct superfamily of TNF Receptors. TWEAKR is expressed in many tissues such as the heart, placenta, kidney, pancreas, skeletal muscle and lung. TWEAK R plays a role in TWEAK-induced endothelial cell migration, proliferation, and angiogenesis.
Antigen Details
References & Citations
1. Nakayama, M. et al. (2003) J. Immunol. 170:341
2. Wiley, SR. et al. (2001) Immunity 15:837
3. Feng, SL. et al. (2000) Am. J. Pathol. 156:1253
4. Desplat-Jégo, S. et al. (2005) Clin. Immunol. 117:15

Technical Protocols
Related Products