Bulk quantities available. Contact us for pricing.
Data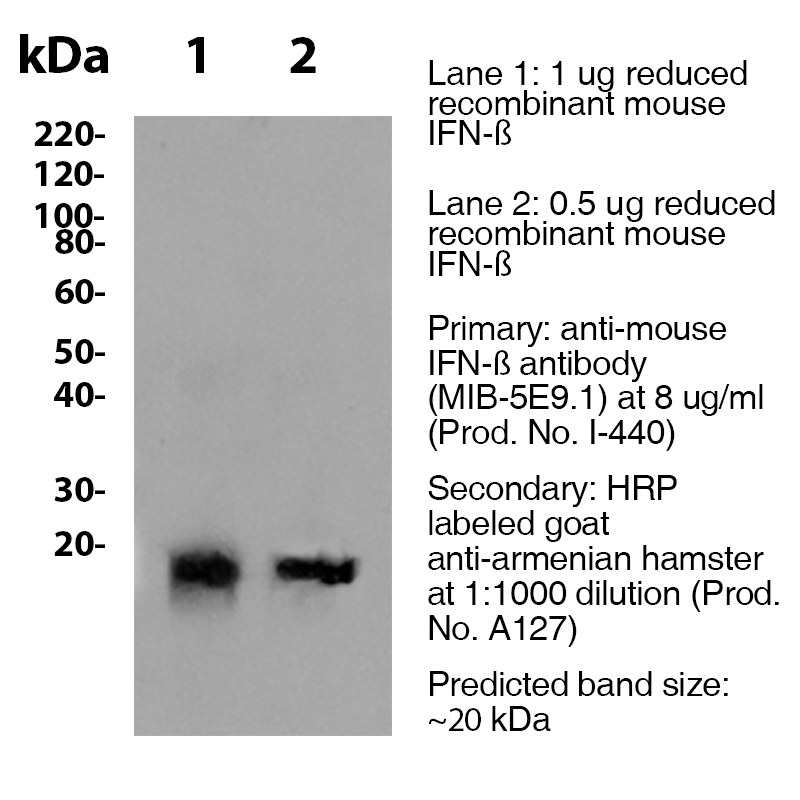 Antibody Details
Product Details
Formulation
This purified antibody is formulated in 0.01 M phosphate buffered saline (150 mM NaCl) PBS pH 7.4, 1% BSA and 0.09% sodium azide as a preservative.
Storage and Handling
This purified antibody is stable when stored at 2-8°C. Do not freeze.
Applications and Recommended Usage?
Quality Tested by Leinco
WB The purified antibody is recommended for Western blotting. The suggested concentration for this MIB-5E9.1 antibody for use in western blotting is 1-10 μg/ml.
Other Applications Reported In Literature ?
N This antibody is recommended for neutralization of mouse IFN-β bioactivity
Each investigator should determine their own optimal working dilution for specific applications. See directions on lot specific datasheets, as information may periodically change.
Description
Specificity
Armenian Hamster Anti-Mouse IFNβ (Clone MIB-5E9.1) recognizes Mouse IFNβ. This monoclonal antibody was purified using multi-step affinity chromatography methods such as Protein A or G depending on the species and isotype.
Background
Interferons (IFN) consist of two classes. The type I IFN class consists of 20 highly similar IFN-α proteins and a single IFN-ß protein. The second class, type II IFN, consists of a single protein, IFN-γ. IFN-α and IFN-ß signal through the same cell surface receptor IFNAR1 and have a similar range of biological activities including antiviral and antiproliferative activity. The type I IFNs also influence activation, growth and differentiation of T cells, B cells, macrophages, NK cells and other cell types such as endothelial cells and fibroblasts. IFN-ß has recently proven to be beneficial in patients with multiple sclerosis and could also be a potential therapy for rheumatoid arthritis. It is unclear what cellular mechanisms are involved in IFN-ß's therapeutic effects, but they may be caused by a restoration of balance between pro- and anti-inflammatory cytokines.
Antigen Details
Technical Protocols
Formats Available