Data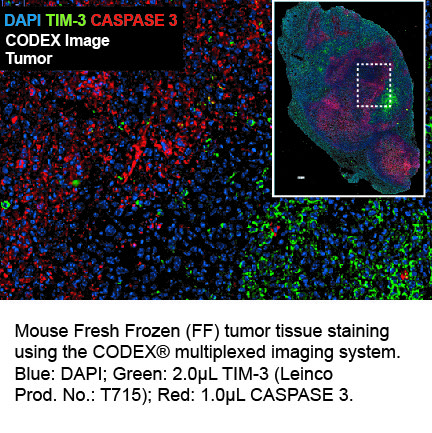 CODEX® Details
Fluorescent Dye
Cy5 is in the bright red fluorescent channel with an excitation max of 649 nm and an emission max of 666 nm.
Antibody and Reporter Details
Immunogen
This antibody was produced using recombinant mouse TIM-3
Formulation
This CODEX® barcoded antibody is formulated in phosphate buffered saline (150 mM NaCl) PBS, EDTA pH 7.2 containing 0.09% sodium azide as a preservative. The CODEX® reporter is lyophilized and formulated in 1X Tris-EDTA (TE) pH 8.0 (10 mM Tris-HCl, 1 mM disodium EDTA, pH 8.0)
Product Preparation
Manufactured in an animal-free facility using only in vitro cell culture techniques, purified by affinity chromatography, and conjugated to a specific barcode under optimal conditions.
State of Matter
CODEX® barcoded antibody - Liquid; CODEX® reporter - Lyophilized
Storage and Handling
This CODEX® barcoded antibody is stable when stored at 2-8°C for up to 1 year (do not freeze). The CODEX® reporter is stable when frozen at -20°C for up to 1 year.
Applications and Recommended Usage?
Quality Tested by Leinco
CODEX®; IHC FF - The suggested dilution for staining tissue in immunohistochemistry - Fresh Frozen (FF) is 1 μl of Anti-Mouse TIM-3 (BX003) in a final volume of 200 μl of CODEX® staining buffer.
Each investigator should determine their own optimal working dilution for specific applications. See directions on lot specific datasheets, as information may periodically change.
Description
Specificity
Clone RMT2-23 recognizes an epitope on mouse Tim-3.
Antigen Distribution
Tim-3 is expressed on activated Th1 and Tc1 lymphocytes, CD11b+ macrophages, Tregs, NK cells, and mast cells.
Background
Antibody Tim-3, clone RMT3-23, recognizes T cell immunoglobulin and mucin domain-containing protein 3 (TIM3, also known as CD366), a TIM family member of immunoregulatory proteins. Tim-3 is a 60kDa type I transmembrane protein with an extracellular immunoglobulin and mucin-like domain and a cytoplasmic tyrosine phosphorylation motif. Tim-3 is expressed by IFNg-producing Th1 CD4 and Tc1 (cytotoxic) CD8 T cells1, regulatory T cells (Tregs)2, myeloid cells3, NK cells4, and mast cells5. Tim-3 is an inhibitory molecule that limits Th1-mediated inflammatory diseases, including a model of central nervous system inflammation (experimental autoimmune encephalomyelitis, EAE)1, inflammatory bowel disease (IBD)6, and type I diabetes7. Tim-3 is also proposed to induce immunological tolerance7, promote Th1 apoptosis8, and regulate macrophage activation1. In addition, Tim-3 is upregulated on tumor-infiltrating lymphocytes, and coblockade of Tim-3 and immune checkpoint inhibitors, such as PD-1, is currently being investigated in clinical trials for the treatment of cancer9.

CODEX® reporters are made up of a fluorescent dye and a short oligonucleotide DNA barcode called a CODEX® Tag. Fluorescent reporters enable highly specific detection of corresponding barcodes, and the use of spectrally separated dyes allow for precise signal detection in up to three distinct fluorescence channels at one time.
Antigen Details
Ligand/Receptor
Putative ligand on resting CD4+ lymphocytes
Function
May play a role in the development of immune responses and the development of Th1-mediated responses
References & Citations
1. Monney, L. et al. (2002)Nature 415, 536–541.
2. Gao, X. et al. (2012) PLOS ONE 7, e30676.
3. Anderson, A. C. et al. (2007) Science 318, 1141–1143.
4. Ndhlovu, L. C. et al. (2012) Blood 119, 3734–3743.
5. Phong, B. L. et al. J. (2015) Exp. Med. 212, 2289–2304.
6. Li, X. et al. (2010) Clin. Immunol. 134, 169–177.
7. Sanchez-Fueyo, A. et al. (2003) Nat. Immunol. 4, 1093–1101.
8. Zhu C, et al.. Nature Immunology. 2005;6:1245–1252.
Technical Protocols
Formats Available