Data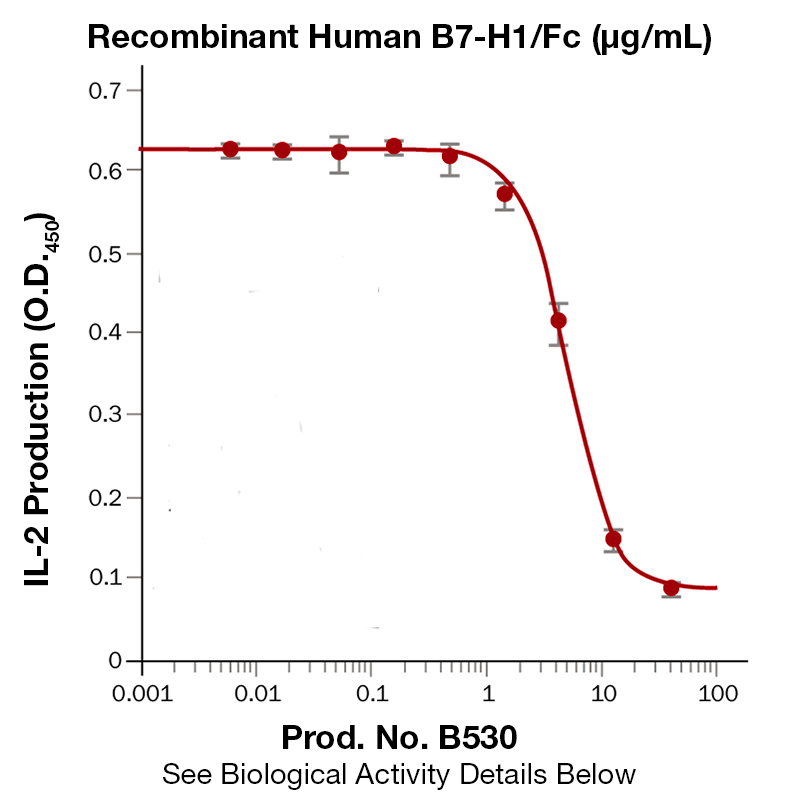 Background
PD-1 is a 50-55 kD member of the B7 Ig superfamily. PD-1 is also a member of the extended CD28/CTLA-4 family of T cell regulators and is suspected to play a role in lymphocyte clonal selection and peripheral tolerance. The ligands of PD-1 are PD-L1 and PD-L2, and are also members of the B7 Ig superfamily. PD-1 and its ligands negatively regulate immune responses. PD-L1, or B7-Homolog 1, is a 40 kD type I transmembrane protein that has been reported to costimulate T cell growth and cytokine production. The interaction of PD-1 with its ligand PD-L1 is critical in the inhibition of T cell responses that include T cell proliferation and cytokine production. PD-L1 has increased expression in several cancers. Inhibition of the interaction between PD-1 and PD-L1 can serve as an immune checkpoint blockade by improving T-cell responses In vitro and mediating preclinical antitumor activity. Within the field of checkpoint inhibition, combination therapy using anti-PD1 in conjunction with anti-CTLA4 has significant therapeutic potential for tumor treatments. PD-L2 is a 25 kD type I transmembrane ligand of PD-1. Via PD-1, PD-L2 can serve as a coinhibitor of T cell functions. Regulation of T cell responses, including enhanced T cell proliferation and cytokine production, can result from mAbs that block the PD-L2 and PD-1 interaction.
Protein Details
Purity
>90% by SDS-PAGE and analyzed by silver stain.
Endotoxin Level
<0.01EU/µg as determined by the LAL method
Biological Activity
The biological activity of Human B7-H1 was determined by its ability to compete with biotin labeled in rhB7-H1 for the binding of rmPD-1/Fc in a functional ELISA.
Fusion Protein Tag
Fc Fusion Protein
Amino Acid Sequence
ft vtvpkdlyvv eygsnmtiec kfpvekqldl aalivyweme dkniiqfvhg eedlkvqhss yrqrarllkd qlslgnaalq itdvklqdag vyrcmisygg adykritvkv napynkinqr ilvvdpvtse heltcqaegy pkaeviwtss dhqvlsgktt ttnskreekl fnvtstlrin tttneifyct frrldpeenh taelvipelp lahppnertd iegrmdpksc dkthtcppcp apellggpsv flfppkpkdt lmisrtpevt cvvvdvshed pevkfnwyvd gvevhnaktk preeqynsty rvvsvltvlh qdwlngkeyk ckvsnkalpa piektiskak gqprepqvyt lppsrdeltk nqvsltclvk gfypsdiave wesngqpenn ykttppvlds dgsfflyskl tvdksrwqqg nvfscsvmhe alhnhytqks lslspgk
N-terminal Sequence Analysis
Phe19
State of Matter
Lyophilized
Predicted Molecular Mass
The predicted molecular weight of Recombinant Human B7-H1 is Mr 52 kDa. However, the actual molecular weight as observed by migration on SDS-PAGE is Mr 70-75 kDa.
Formulation
This recombinant protein was 0.2 µm filtered and lyophilized from modified Dulbecco's phosphate buffered saline (1X PBS) pH 7.2 – 7.3 with no calcium, magnesium, or preservatives.
Storage and Stability
This lyophilized protein is stable for six to twelve months when stored desiccated at -20°C to -70°C. After aseptic reconstitution, this protein may be stored at 2°C to 8°C for one month or at -20°C to -70°C in a manual defrost freezer. Avoid Repeated Freeze Thaw Cycles. See Product Insert for exact lot specific storage instructions.
References & Citations
1. Sheppard, KA. et al. (2004) FEBS Letters 574:37
2. Flies, DB. et al. (2007) J. Immunol. 30:251
3. Yamazaki, T. et al. (2002) J. Immunol. 169:5538
4. Thompson, RH. et al. (2004) Proc. Natl. Acad. Sci. USA 101:17174

IMPORTANT Use lot specific datasheet for all technical information pertaining to this recombinant protein.
Related Products