Bulk quantities available. Contact us for pricing.
Data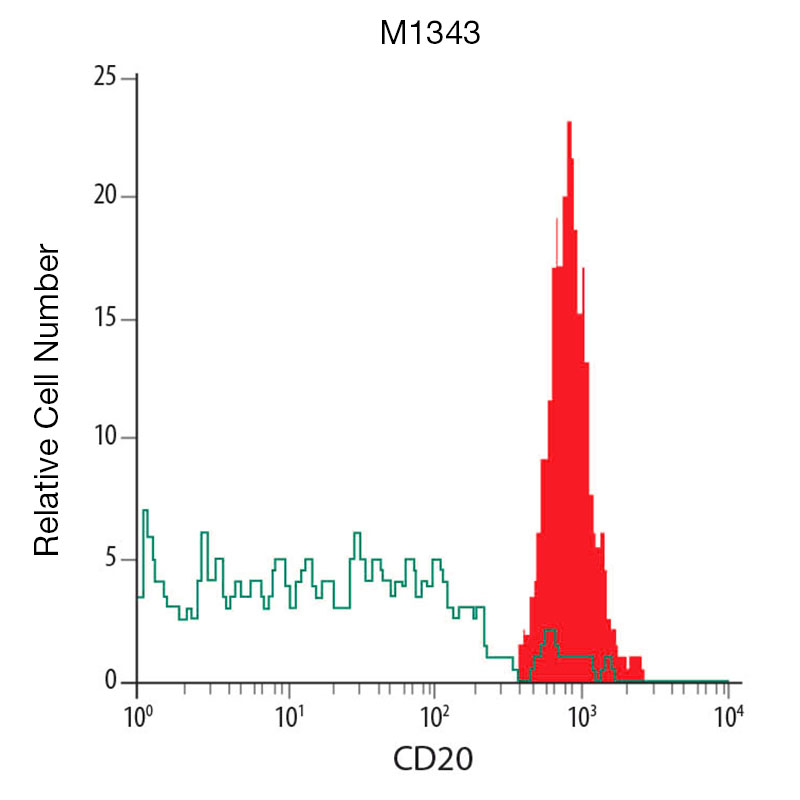 Antibody Details
Product Details
Immunogen
Purified Recombinant Human MS4A (>98%)
Formulation
This monoclonal antibody has been 0.2 µm filtered and lyophilized from modified Dulbecco's phosphate buffered saline (1X PBS) pH 7.2 - 7.3 containing 5.0% w/v trehalose with no calcium, magnesium or preservatives present.
Storage and Handling
The lyophilized antibody can be stored desiccated at -20°C to -70°C for up to twelve months. The reconstituted antibody can be stored for at least four weeks at 2-8°C. For long-term storage of the reconstituted antibody, aseptically aliquot into working volumes and store at -20°C to -70°C in a manual defrost freezer. Avoid repeated freeze thaw cycles. No detectable loss of activity was observed after six months.
Applications and Recommended Usage?
Quality Tested by Leinco
Flow Cytometry:
It is recommended to use the indirect method for signal enhancement when enumerating cells expressing MS4A. A suggested method would be to stain cells expressing MS4A with 25 µg per 1-2.5 x 10
5
cells in a total staining volume of 200 µl followed by
PN:M1189
.
Other Applications Reported In Literature ?
Immunohistochemistry: 5-25 µg/mL
CyTOF-ready: Ready to be labeled using established conjugation methods. No BSA or other carrier proteins that could interfere with conjugation.
Each investigator should determine their own optimal working dilution for specific applications. See directions on lot specific datasheets, as information may periodically change.
Description
Specificity
Clone 396444 recognizes an epitope on human CD20.
Antigen Distribution
CD20 is present on human pre B lymphocytes and on B lymphocytes, except on plasma cells, and is expressed in tandem with surface IgM. It is also expressed in some follicular dendritic cells and at low levels on a T cell subset.
Background
CD20 is a 33-37 kD transmembrane-spanning phosphoprotein that facilitates optimal B-cell immune response against T-independent antigens. It can exist in a complex with MHC class I, MHC class II, CD53, CD81, and CD82. However, CD20 can also form homo-oligomers. It has been suggested that homo-oligomerization of CD20 forms calcium ion channels in the plasma membrane of B cells. CD20 can be useful in diagnosing B-cell lymphomas and leukemias, and is the target of mAbs in the treatment of all B cell lymphomas, leukemias, and B cell-mediated autoimmune diseases. Interestingly, studies show a link between the immune system's B cells and diabetes mellitus in which anti-CD20 antibodies rendered the T cell antibodies dysfunctional and, hence, unable to cause insulin desensitivity by a B cell antibody-modulated autoimmune response.
Antigen Details
Ligand/Receptor
Src family tyrosine kinases, MHC class I, II, CD53, CD81, CD82
Function
B cell activation
Technical Protocols
Related Products
Formats Available