Bulk quantities available. Contact us for pricing.
Data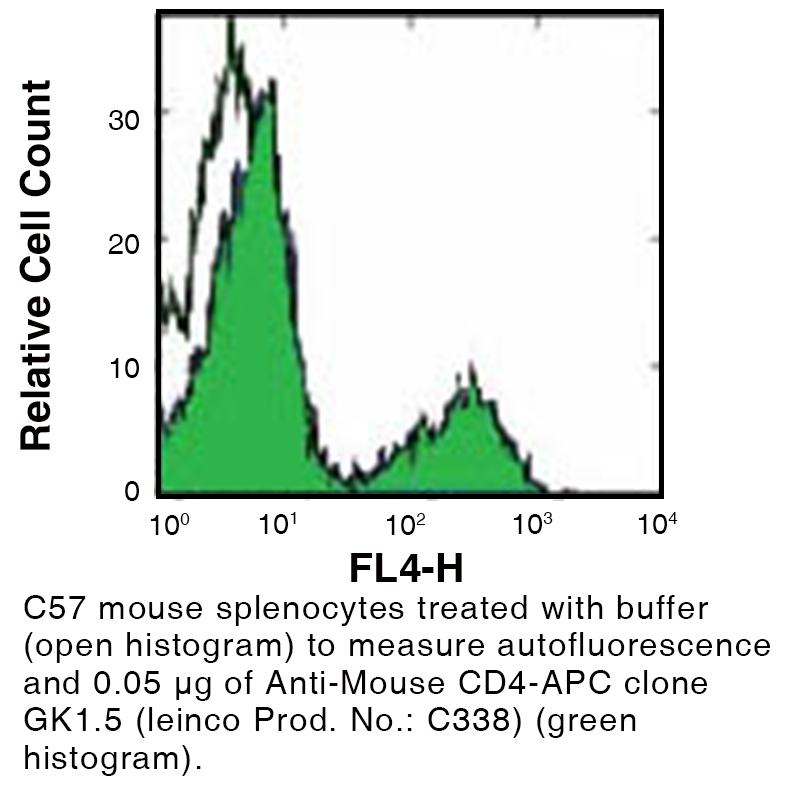 Antibody Details
Product Details
Formulation
This Allophycocyanin (APC) conjugate is formulated in 0.01 M phosphate buffered saline (150 mM NaCl) PBS pH 7.4, 1% BSA and 0.09% sodium azide as a preservative.
Storage and Handling
This APC conjugate is stable when stored at 2-8°C. Do not freeze.
Excitation Laser
Red Laser (650 nm)
Applications and Recommended Usage?
Quality Tested by Leinco
FC The suggested concentration for this GK1.5 antibody for staining cells in flow cytometry is ≤ 0.25 μg per 106 cells in a volume of 100 μl. Titration of the reagent is recommended for optimal performance for each application.
Each investigator should determine their own optimal working dilution for specific applications. See directions on lot specific datasheets, as information may periodically change.
Description
Specificity
Rat Anti-Mouse CD4 (Clone GK1.5) recognizes an epitope on Mouse CD4. This monoclonal antibody was purified using multi-step affinity chromatography methods such as Protein A or G depending on the species and isotype.
Antigen Distribution
The L3T4 antigen is expressed by the helper/inducer subset of mouse T-cells. The antigen is present on approximately 80% of thymocytes, 20% of spleen cells and 60% of lymph node cells. The expression of L3T4 correlates with class II MHC antigen reactivity on cloned T-cell lines.
Background
CD4 (cluster of differentiation 4) is a glycoprotein expressed on the surface of T helper cells, regulatory T cells, monocytes, macrophages, and dendritic cells. CD4 interacts with class II molecules of the major histocompatibility complex (MHC) enhancing the signal for T-cell activation.1
Antigen Details
Ligand/Receptor
MHC class II molecule
References & Citations
1. Hendrickson WA et al. (1994) Structure 2: 59
Technical Protocols
Related Products
Formats Available