Anti-Mouse CD4 (Clone GK1.5) – Purified in vivo PLATINUM™ Functional Grade
Product No.: C2838
Product Type
Monoclonal Antibody
---
Data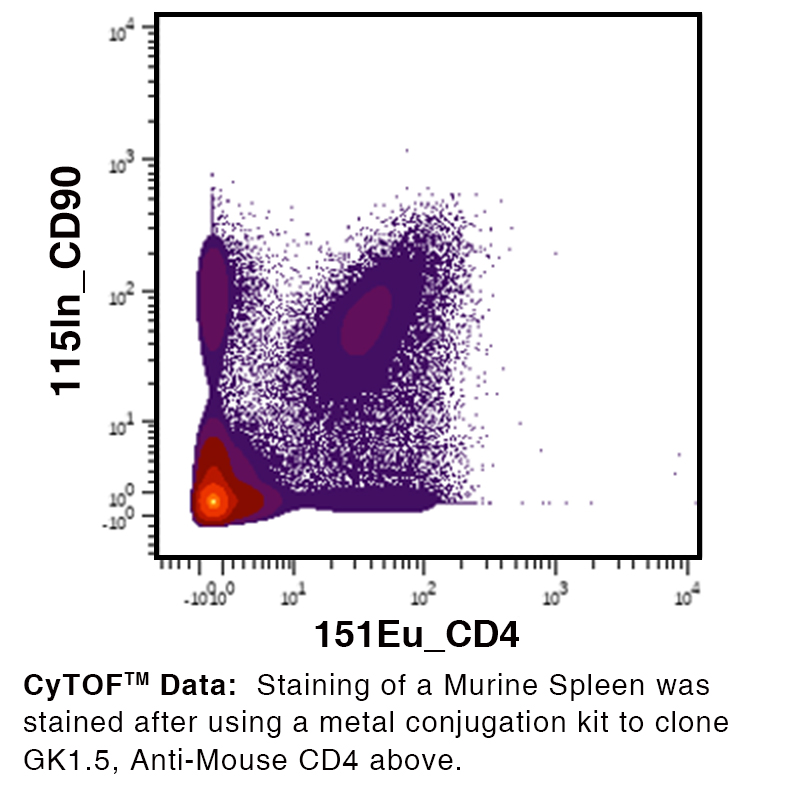 Antibody Details
Product Details
Immunogen
Mouse CTL clone V4
Endotoxin Level
<0.5 EU/mg as determined by the LAL method
Purity
≥98% monomer by analytical SEC
Formulation
This monoclonal antibody is aseptically packaged and formulated in 0.01 M phosphate buffered saline (150 mM NaCl) PBS pH 7.2 - 7.4 with no carrier protein, potassium, calcium or preservatives added. Due to inherent biochemical properties of antibodies, certain products may be prone to precipitation over time. Precipitation may be removed by aseptic centrifugation and/or filtration.
Product Preparation
Functional grade preclinical antibodies are manufactured in an animal free facility using in vitro cell culture techniques and are purified by a multi-step process including the use of protein A or G to assure extremely low levels of endotoxins, leachable protein A or aggregates.
Pathogen Testing
To protect mouse colonies from infection by pathogens and to assure that experimental preclinical data is not affected by such pathogens, all of Leinco's Purified Functional PLATINUM™ antibodies are tested and guaranteed to be negative for all pathogens in the IDEXX IMPACT I Mouse Profile.
Storage and Handling
Functional grade preclinical antibodies may be stored sterile as received at 2-8°C for up to one month. For longer term storage, aseptically aliquot in working volumes without diluting and store at -80°C. Avoid Repeated Freeze Thaw Cycles.
Applications and Recommended Usage?
Quality Tested by Leinco
CyTOF®
FC The suggested concentration for this GK1.5 antibody for staining cells in flow cytometry is ≤ 1.0 μg per 106 cells in a volume of 100 μl. Titration of the reagent is recommended for optimal performance for each application.
Other Applications Reported In Literature ?
B
Costim
Depletion
IHC
IP

Each investigator should determine their own optimal working dilution for specific applications. See directions on lot specific datasheets, as information may periodically change.
Description
Specificity
Rat Anti-Mouse CD4 (Clone GK1.5) recognizes an epitope on Mouse CD4. This monoclonal antibody was purified using multi-step affinity chromatography methods such as Protein A or G depending on the species and isotype. This antibody was also pathogen tested and third-party certified by IDEXX BioReseach to meet the lowest mycoplasma specification and free of any viral pathogens of concern.
Antigen Distribution
The CD4/L3T4 antigen is expressed by the helper/inducer subset of mouse T-cells. The antigen is present on approximately 80% of thymocytes, 20% of spleen cells and 60% of lymph node cells. The expression of L3T4 correlates with class II MHC antigen reactivity on cloned T-cell lines.
Background
CD4 (cluster of differentiation 4) is a glycoprotein expressed on the surface of T helper cells, regulatory T cells, monocytes, macrophages, and dendritic cells. CD4 interacts with class II molecules of the major histocompatibility complex (MHC) enhancing the signal for T-cell activation.6
Antigen Details
Ligand/Receptor
MHC class II molecule
References & Citations
1.) Ardolino, M.
et al.
(2018)
J Clin Invest.
128
(10):4654-4668.
PubMed
2.) Schreiber, RD.
et al.
(2017)
Cancer Immunol Res.
5
(2):106-117.
PubMed
3.) Nicolas, JF.
et al.
(2002)
J Immunol.
168
(6):3079-87.
Article Link
4.) Shin, H.
et al.
(2018)
J Virol.
92
(7): e00038-18.
PubMed
5.) Chiang, BL.
et al.
(2001)
Immunology.
2001
103
(3): 301–309.
PubMed
6.) Hendrickson, WA.
et al.
(1994)
Structure
2
: 59 7.) Skyberg, J. A.
et al.
(2020)
Infection and Immunity.
88
: 5
Journal Link
8.) Hawman DW,
et al.
(2021)
Microorganisms
9
(2):279
Journal Link
Technical Protocols