Bulk quantities available. Contact us for pricing.
Data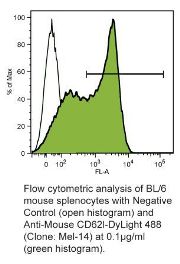 Antibody Details
Product Details
Formulation
This DyLight® 488 conjugate is formulated in 0.01 M phosphate buffered saline (150 mM NaCl) PBS pH 7.4, 1% BSA and 0.09% sodium azide as a preservative.
Storage and Handling
This DyLight® 488 conjugate is stable when stored at 2-8°C. Do not freeze.
Excitation Laser
Blue Laser (493 nm)
Applications and Recommended Usage?
Quality Tested by Leinco
FC The suggested concentration for this MEL-14 antibody for staining cells in flow cytometry is ≤ 1.0 μg per 106 cells in a volume of 100 μl. Titration of the reagent is recommended for optimal performance for each application.
Additional Reported Applications For Relevant Conjugates ?

IP
B
IHC (Frozen)
IHC (Paraffin)
For specific conjugates of this clone, review literature for suggested application details.
Each investigator should determine their own optimal working dilution for specific applications. See directions on lot specific datasheets, as information may periodically change.
Description
Specificity
Rat Anti-Mouse CD62L (Clone MEL-14) recognizes an epitope on Mouse CD62L. This monoclonal antibody was purified using multi-step affinity chromatography methods such as Protein A or G depending on the species and isotype. This antibody was then conjugated to DyLight 488 under optimal conditions.
Background
CD62L is a 75-95 kD glycoprotein which is also known as L-selectin, Ly-22, LAM-1, and MEL-14. It is a member of the selectin family and is expressed on the majority of B and naïve T cells, a subset of memory T cells, monocytes, granulocytes, most thymocytes, and a subset of NK cells. CD62L is important in lymphocyte homing to high endothelial venules (HEV) in peripheral lymph nodes and leukocyte "rolling" on activated endothelium. CD62L also contributes to neutrophil emigration at inflammatory sites. CD62L is rapidly shed from lymphocytes and neutrophils upon cellular activation and the expression levels of CD62L (in conjunction with other markers) have been used to distinguish naïve, effector, and memory T cells.
Antigen Details
Ligand/Receptor
CD34, GlyCAM-1, MAdCAM-1
Technical Protocols
Formats Available