Bulk quantities available. Contact us for pricing.
Data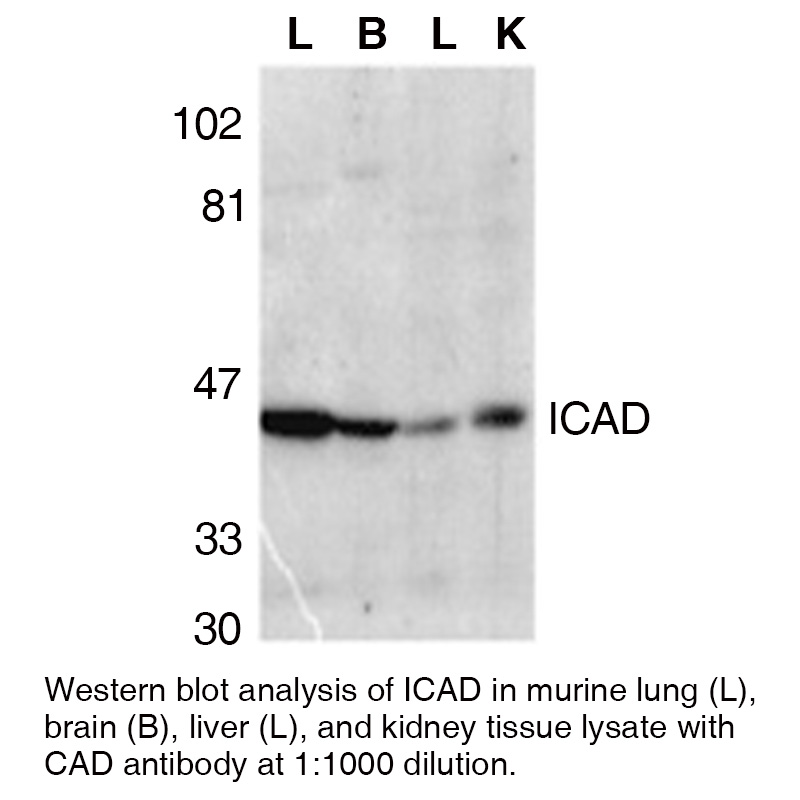 Antibody Details
Product Details
Formulation
This polyclonal antibody is formulated in phosphate buffered saline (PBS) pH 7.4 containing 0.02% sodium azide as a preservative.
Storage and Handling
This polyclonal antibody is stable for at least one week when stored at 2-8°C. For long term storage, aliquot in working volumes without diluting and store at –20°C in a manual defrost freezer. Avoid Repeated Freeze Thaw Cycles.
Applications and Recommended Usage?
Quality Tested by Leinco
Western Blotting:
This ICAD antibody can be used for detection of of ICAD by Western blot at 1:1000 dilution. A 45 kDa band can be detected.
Each investigator should determine their own optimal working dilution for specific applications. See directions on lot specific datasheets, as information may periodically change.
Description
Specificity
Rabbit Anti-Mouse ICAD recognizes an epitope near the C-terminus of mouse ICAD. This polyclonal antibody was purified using affinity chromatography.
Background
Apoptosis is related to many diseases and induced by a family of cell death receptors and their ligands. Cell death signals are transduced by death domain containing adapter molecules and members of the caspase family of proteases. These death signals finally cause the degradation of chromosomal DNA by activated DNase. A human DNA fragmentation factor (DFF) was identified recently which was cleaved by caspase-3 during apoptosis. Mouse homologue of human DFF was identified as a DNase inhibitor designated ICAD, for inhibitor of caspase-activated DNase. Upon cleavage of DFF/ICAD, a caspase activated deoxyribonuclease (CAD) is released and activated and eventually causes the degradation of DNA in the nuclei. Therefore, the cleavage of CAD inhibitor molecule DFF/ICAD, which causes DNase activation and DNA degradation, is the hallmark of apoptotic cell death.
Antigen Details
References & Citations
1. Liu, X. et al. (1997) Cell 89:175-184
2. Enari, M. et al. (1998) Nature 391:43-50
3. Sakahira, H. et al. (1998) Nature 391:96-99
4. Wyllie, A. (1998) Nature 391(6662):20-1.
Technical Protocols
Related Products