Data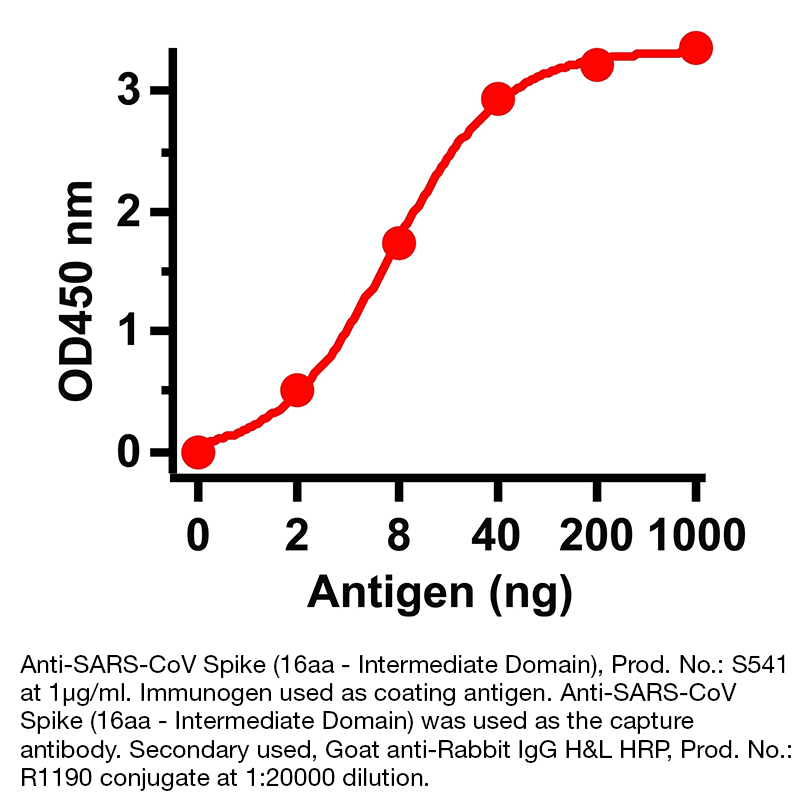 Antibody Details
Product Details
Immunogen
Anti-SARS-CoV Spike antibody was raised against a peptide corresponding to 16 amino acids near the center of SARS-CoV Spike glycoprotein. The immunogen is located within amino acids 410-460 of SARS-CoV Spike.
Formulation
This polyclonal antibody is formulated in phosphate buffered saline (PBS) pH 7.4 containing 0.02% sodium azide as a preservative.
Storage and Handling
This polyclonal antibody is stable for at least one week when stored at 2-8°C. For long term storage, aliquot in working volumes without diluting and store at –20°C in a manual defrost freezer. Avoid Repeated Freeze Thaw Cycles.
Applications and Recommended Usage?
Quality Tested by Leinco
ELISA
WB
Each investigator should determine their own optimal working dilution for specific applications. See directions on lot specific datasheets, as information may periodically change.
Description
Specificity
Rabbit Anti-Human Severe Acute Respiratory Syndrome Spike (SARS-CoV Spike) recognizes Human SARS Spike. This polyclonal antibody was purified using affinity chromatography.
Background
A novel coronavirus has recently been identified as the causative agent of SARS-CoV. Coronaviruses are a major cause of upper respiratory diseases in humans. The genomes of these viruses are positive-stranded RNA approximately 27-31kb in length. SARS can be mediated by the binding of the viral spike protein, a glycosylated protein and the major surface antigen of the virus, to the angiotensin-converting enzyme 2 (ACE2) on target cells. This binding can be blocked by a soluble form of ACE2.
Antigen Details
References & Citations
1. Marra, M. A. et al. (2003) Science 300:1399 2. Rota, P. A. et al. (2003) Science 300:1394 3. Navas-Nartin, S. R. et al. (2004) J. Neurovirol. 10:75 4. Li, W. et al. (2003) Nature 426:450
Technical Protocols
Related Products