Data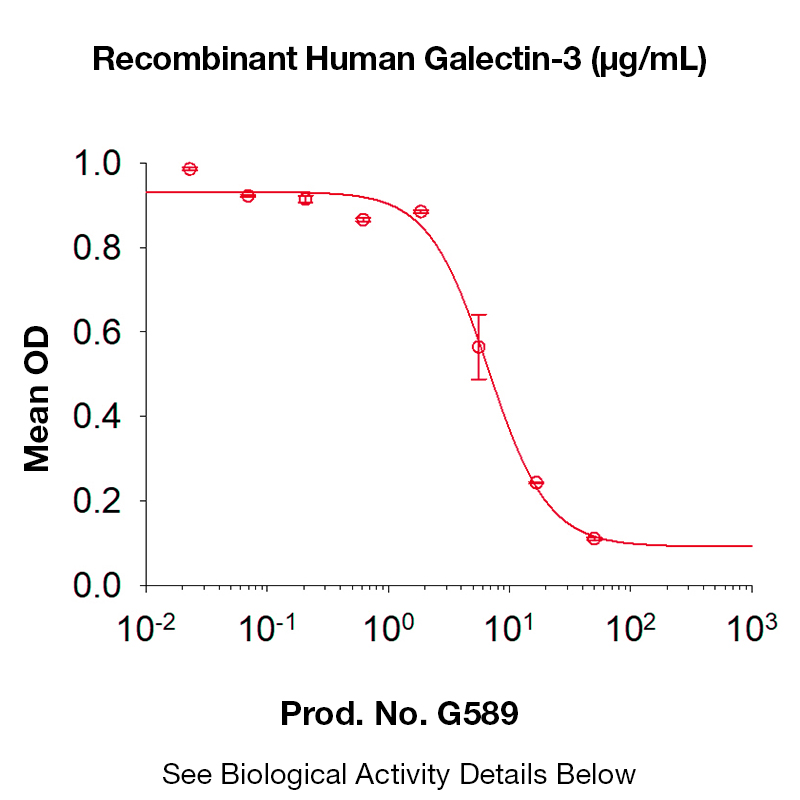 Background
Galectin-3 is a beta-galactoside-binding protein that regulates many biologic processes, including cell adhesion, migration, cell growth, tumor progression, metastasis, and apoptosis.1 It is secreted from activated macrophages, basophils, and mast cells.2 Galectin-3 may play an important role in the acute phase of human atopic dermatitis.
Protein Details
Purity
>90% by SDS-PAGE and analyzed by silver stain.
Endotoxin Level
<0.01 EU/µg as determined bythe LAL method
Biological Activity
The biological activity of Human Gal-3 was determined by its ability to agglutinate human red blood cells.2 ED50 is 3 - 10 μg/ml.
Protein Accession No.
Q6IBA7
Amino Acid Sequence
Ala 2 - Ile 250 (Accession # Q6IBA7)
N-terminal Sequence Analysis
Ala2
State of Matter
Lyophilized
Predicted Molecular Mass
The predicted molecular weight of Recombinant Human Galectin-3 is Mr 26 kDa.
Formulation
This recombinant protein was 0.2 µm filtered and lyophilized from modified Dulbecco's phosphate buffered saline (1X PBS), 4 mM β-mercaptoethanol (βME) containing 50 µg of BSA per 1 µg of cytokine.
Storage and Stability
This lyophilized protein is stable for six to twelve months when stored desiccated at -20°C to -70°C. After aseptic reconstitution, this protein may be stored at 2°C to 8°C for one month or at -20°C to -70°C in a manual defrost freezer. Avoid Repeated Freeze Thaw Cycles. See Product Insert for exact lot specific storage instructions.
References & Citations
1. Eisenthal, A. et al. (2009) Pathol Res Pract.
2. Dahlgren, C. et al. (1998) Blood 91: 3430
2. Hadari, YR. et al. (2000) J. Cell Sci. 113:2385.
IMPORTANT Use lot specific datasheet for all technical information pertaining to this recombinant protein.
Related Products