Bulk quantities available. Contact us for pricing.
Data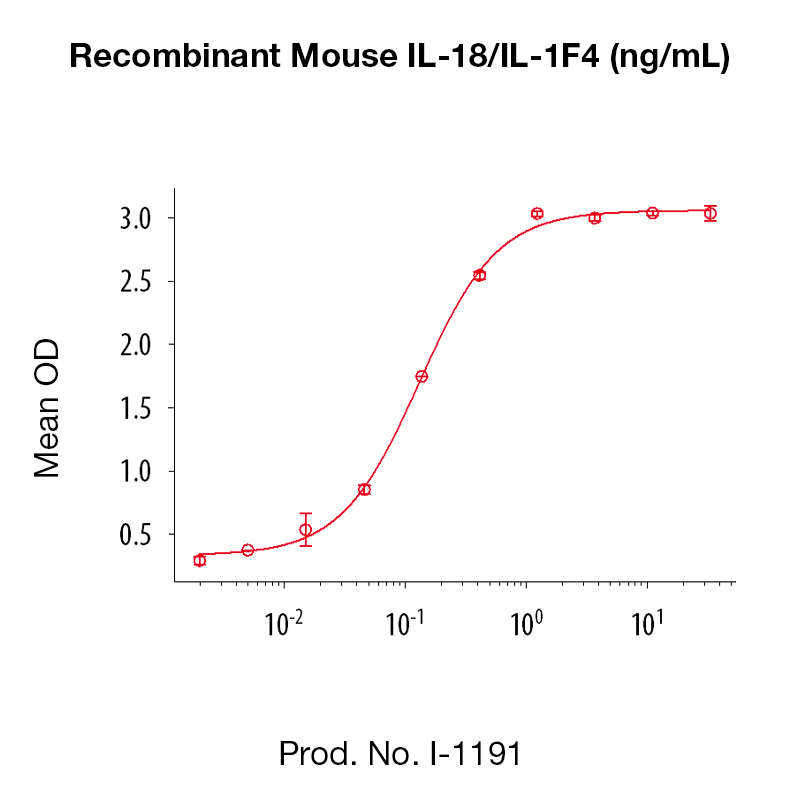 Protein Details
Purity
>90% by SDS Page and analyzed by silver stain.
Endotoxin Level
<0.1 EU/µg as determined by the LAL method
Biological Activity
Measured by its ability to induce mouse IFNg secretion by activated mouse T cells. The ED50 for this effect is 0.06-0.36 ng/mL.
Amino Acid Sequence
NFGRLHCTT AVIRNINDQV LFVDKRQPVF EDMTDIDQSA SEPQTRLIIY MYKDSEVRGL AVTLSVKDSK MSTLSCKNKI ISFEEMDPPE NIDDIQSDLI FFQKRVPGHN KMEFESSLYE GHFLACQKED DAFKLILKKK DENGDKSVMF TLTNLHQS
N-terminal Sequence Analysis
Asn36 & Leu40
State of Matter
Lyophilized
Predicted Molecular Mass
The predicted molecular weight of Recombinant Mouse IL-18 is Mr 18.2 kDa.
Formulation
This recombinant protein was lyophilized from a 0.2 μm filtered solution in phosphate buffered saline (PBS), with 1mM EDTA and 1 mM DTT with 5% trehalose, pH 7.2.
Storage and Stability
The lyophilized protein should be stored desiccated at -20 to -70°C. The reconstituted protein can be stored for at least one month at 2 to 8°C. For long-term storage of the reconstituted protein, aliquot into working volumes and store at -20 to -70°C in a manual defrost freezer. Avoid Repeated Freeze Thaw Cycles.
Applications and Recommended Usage ?
(Quality Tested by Leinco)
ELISA Sandwich: This antibody is useful as the capture antibody in a sandwich ELISA. The suggested coating concentration is 5 µg/ml (100 µl/well) µg/ml.
Flow Cytometry:PN:R1190
Western Blotting: This antibody can be used to detect Human, Mouse and Rat TIM-1 by Western blot analysis at a concentration of 1.0-2.0 µg/ml when used in conjunction with compatible secondary reagents, such as PN:R1190, under either reducing or non-reducing conditions. The positive control for Western blotting is PN:U124.


Technical Protocols
IMPORTANT Use lot specific datasheet for all technical information pertaining to this recombinant protein.
Related Products