Bulk quantities available. Contact us for pricing.
Data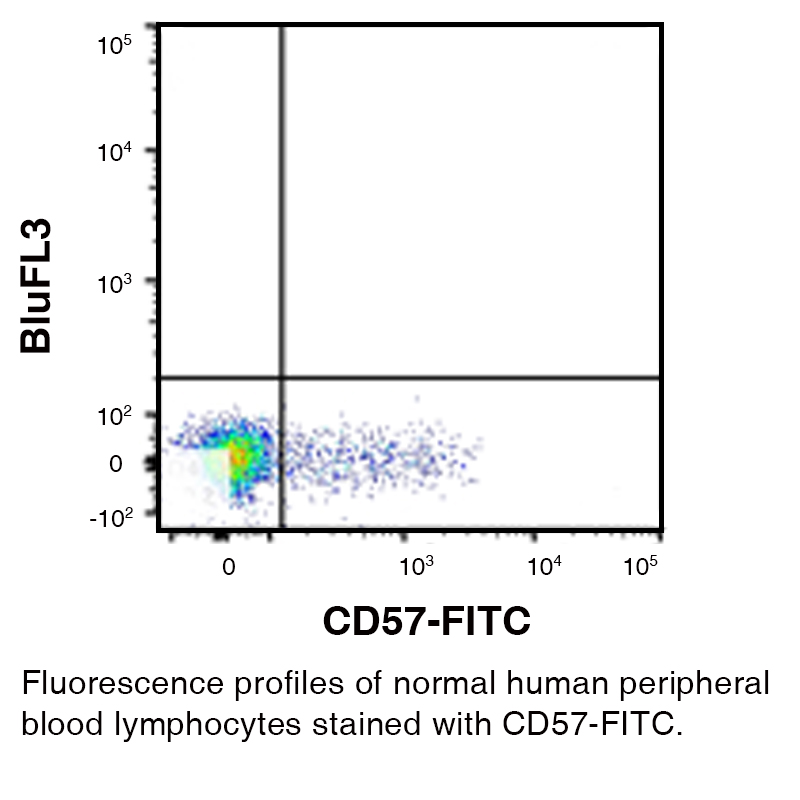 Antibody Details
Product Details
Formulation
This Fluorescein (FITC) conjugate is formulated in 0.01 M phosphate buffered saline (150 mM NaCl) PBS pH 7.4, 1% BSA and 0.09% sodium azide as a preservative.
Storage and Handling
This Fluorescein conjugate is stable when stored at 2-8°C. Do not freeze.
Excitation Laser
Blue Laser (490 nm)
Each investigator should determine their own optimal working dilution for specific applications. See directions on lot specific datasheets, as information may periodically change.
Description
Specificity
Mouse Anti-Human CD57 (Clone VC1.1) recognizes Human CD57. This monoclonal antibody was purified using multi-step affinity chromatography methods such as Protein A or G depending on the species and isotype. Anti-CD57 recognizes a (Mr 110 kD) carbohydrate molecule on myeloid cells. This surface antigen is associated with myelin-associated glycoprotein (MAG).1 This antibody blocks binding of HNK-1 (Leu. 7) antibody.3
Antigen Distribution
The CD57 antigen is present on 15-20% of normal peripheral blood mononuclear cells. It is expressed on a subset of natural killer cells (60%) and on a subset of T-lymphocytes. This carbohydrate is also present on N-CAM in the nervous system.
Background
Anti-CD57 may be used in flow cytometry, Western blotting and immunohistology on formalin fixed paraffin embedded tissue sections. The antibody is useful for enumeration of NK subsets and T-lymphocyte subsets, studies of neural tissue, malignant tissues and AIDS-related complex.
Antigen Details
Ligand/Receptor
Binds to L-selectin and P-selectin in a calcium-dependent manner, also binds to second globular domain of E8 laminin fragment.
References & Citations
1. Barnstable, C. et al. (1995) Brain Research 559:118 2. Leukocyte Typing V (1995) Oxford University Press: Code No. NK67 3. Arimatsu, Y. et al. (1987) J. Neuroscience 7:1250 4. Abo, T., and Balch, C.M. et al. (1981) J. Immunol. 127:1024
Technical Protocols
Formats Available