Bulk quantities available. Contact us for pricing.
Data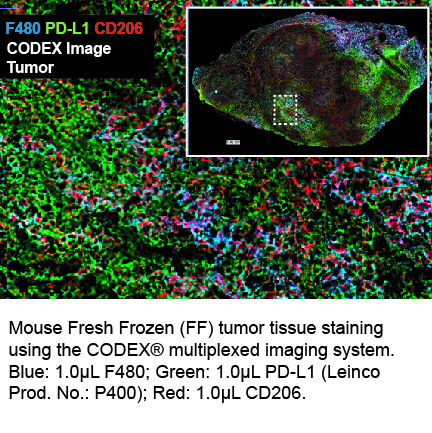 CODEX® Details
Fluorescent Dye
Alexa Fluor™ 488 is in the bright green fluorescent channel with an excitation max of 490 nm and an emission max of 525 nm.
Antibody and Reporter Details
Formulation
This PhenoCycler-Fusion (CODEX)® barcoded antibody is formulated in phosphate buffered saline (150 mM NaCl) PBS, EDTA pH 7.2 containing 0.09% sodium azide as a preservative. The CODEX® reporter is lyophilized and formulated in 1X Tris-EDTA (TE) pH 8.0 (10 mM Tris-HCl, 1 mM disodium EDTA, pH 8.0)
Product Preparation
Manufactured in an animal-free facility using only in vitro cell culture techniques, purified by affinity chromatography, and conjugated to a specific barcode under optimal conditions.
State of Matter
CODEX® barcoded antibody - Liquid; CODEX® reporter - Lyophilized
Storage and Handling
This PhenoCycler-Fusion (CODEX)® barcoded antibody is stable when stored at 2-8°C for up to 1 year (do not freeze). The CODEX® reporter is stable when frozen at -20°C for up to 1 year.
Applications and Recommended Usage?
Quality Tested by Leinco
CODEX®; IHC FF - The suggested dilution for staining tissue in immunohistochemistry - Fresh Frozen (FF) is 1 μl of Anti-Mouse PD-L1 (BX028) in a final volume of 200 μl of CODEX® staining buffer.
Each investigator should determine their own optimal working dilution for specific applications. See directions on lot specific datasheets, as information may periodically change.
Description
Specificity
Clone 10F.9G2 recognizes an epitope on mouse PD-L1.
Antigen Distribution
PD-L1 is present on T cells, B cells, NK cells, dendritic cells, IFN-γ activated endothelial cells, and monocytes.
Background
PD-1 is a 50-55 kD member of the B7 Ig superfamily. PD-1 is also a member of the extended CD28/CTLA-4 family of T cell regulators and is suspected to play a role in lymphocyte clonal selection and peripheral tolerance. The ligands of PD-1 are PD-L1 and PD-L2, and are also members of the B7 Ig superfamily. PD-1 and its ligands negatively regulate immune responses. PD-L1, or B7-Homolog 1, is a 40 kD type I transmembrane protein that has been reported to costimulate T cell growth and cytokine production. The interaction of PD-1 with its ligand PD-L1 is critical in the inhibition of T cell responses that include T cell proliferation and cytokine production. PD-L1 has increased expression in several cancers. Inhibition of the interaction between PD-1 and PD-L1 can serve as an immune checkpoint blockade by improving T-cell responses In vitro and mediating preclinical antitumor activity. Within the field of checkpoint inhibition, combination therapy using anti-PD1 in conjunction with anti-CTLA4 has significant therapeutic potential for tumor treatments. PD-L2 is a 25 kD type I transmembrane ligand of PD-1. Via PD-1, PD-L2 can serve as a coinhibitor of T cell functions. Regulation of T cell responses, including enhanced T cell proliferation and cytokine production, can result from mAbs that block the PD-L2 and PD-1 interaction.

PhenoCycler-Fusion (CODEX)® reporters are made up of a fluorescent dye and a short oligonucleotide DNA barcode called a CODEX® Tag. Fluorescent reporters enable highly specific detection of corresponding barcodes conjugated to antibodies. The use of spectrally separated dyes allow for precise signal detection in up to three distinct fluorescence channels at one time.
Antigen Details
Ligand/Receptor
PD-1 (PDCD1)
References & Citations
1. Ardolino, M.
et al.
(2018)
J Clin Invest.
128
(10):4654-4668.
PubMed
2. Schreiber, RD.
et al.
(2017)
Cancer Immunol Res.
5
(2):106-117.
3. Freeman, G.
et al.
(2000)
J. Exp. Med.
192
:1027.
Technical Protocols
Related Products
Formats Available